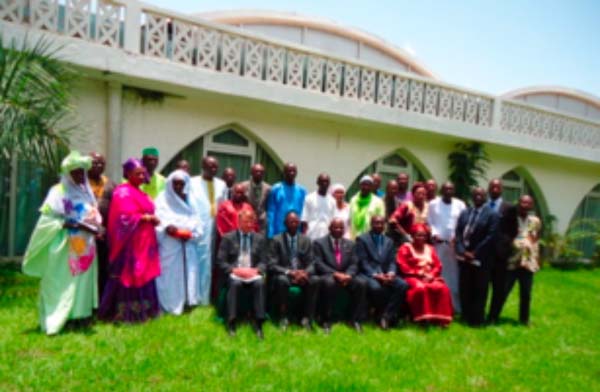 The visiting IFAD President has said at a meeting with Gambian ministers that Vision 2016 to end the importation of rice in this country "is an ambitious one, but is achievable".
He noted that given the level of commitment from the Gambia leader, IFAD would give the needed support to complement his efforts to end rice importation in The Gambia.
IFAD President Dr. Kanayo F. Nwanze Thursday held a meeting with Gambian ministers at the Lazio Atlantic Hotel in Banjul.
IFAD the International Fund for Agricultural Development is an international financial institution and a specialized United Nations agency based in Rome – regarded as the UN's food and agriculture hub.
The IFAD President also told the meeting that investing in rural women in agriculture will bring about the transformation of rural farming communities.
There is no doubt that investment in rural women guarantees household food and nutrition security, and could transform the rural economy and the nation at large, he added.
Dr. Nwanze also informed the meeting that he "had a very interesting meeting" with the UN country team, and also held meetings with the private sector actors and farmers' organisations.
He said he would urge the final adoption and approval of the private sector policy framework and implementation plans by the Gambian cabinet.
The IFAD President expressed his delight in "the strong cooperation and collaboration that exists between IFAD and the government".
"I am delighted by the significant increase in budget allocation for agriculture, as you mentioned, from three percent in 2011 to almost 8 percent", Dr. Nwanze noted, but pointed out that the AU-recommended allocation of 10 percent of national budgets to agriculture is yet to be attained, especially when one considers the government's priority focus on agriculture entailed in the Vision 2016 initiative.
Since 1982, IFAD has financed 10 programmes and projects in The Gambia with a total value of US$197.7 million, of which IFAD had contributed $73.9 million, directly benefiting 149,200 households.
Two of the IFAD supported projects in the country are closing this year. However, they look to the NEMA, which just started last year, as a major platform in contributing to the national agricultural investment plan of The Gambia, Dr. Nwanze told the meeting.
He called for strong institutions, consistency in policy and for the enabling environment to promote private sector participation in agriculture, and for a massive investment in rural infrastructure.
IFAD is supporting the ministry of Agriculture to popularize an agricultural sector monitoring and evaluation framework, according to Dr. Nwanze.
Read Other Articles In Article (Archive)