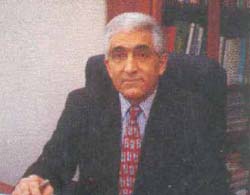 At this issue Dr Hassan Azadeh ,Senior Lecturer at the University of the Gambia, is writing about "Violence against Children" in our continuation of our last week topic about "Violence against women" in our Health Matters Column.
Dr Azadeh How would you explain the violence against children in the Gambia?
Please allow me to start with the recent WHO definition of violence against girls. Violence is defined by World Health Organization ( WHO) as "all forms of abuse (physical, mental, emotional, direct, indirect etc) against girls  under 18, schooled, or of school age.
Abuse can occur both at home (housework, punishment, physical abuse, rape sexual mutilation (FGM) and other traditional harmful abuse to the girls) ,and school( punishment, discrimination, physical and verbal abuse as well as on the street.
Also considered are cases of teenage pregnancy, sexual exhibitionism, indecent assault, HIV- infection following rape, early forced marriage, forced abortion, forced sexual mutilation, forced prostitution, forced labour.
I am afraid I must furthermore answer your question about The Gambia with a simple word that The Gambia is not an exception if it comes to violence against children as the very recent case of rape that posed of deeply shocking news in Daily observer only a few days ago. The newspaper report said: that a 20-year-old man raped a 5-year-old girl at Bakau area not far from The Point office. Having lived in the The Gambia long enough, this incident has not been the very first case of violent against children and it will not be the last too.
Report from Action Aid and Daily Observer
Violence against women is a reality in The Gambia as proven by the large number of cases documented (89 cases) since the inception of Action Aid media survey. These cases are said to be the tip of the iceberg.
Indeed, most cases of abuses do lead to complaints and all complaints are not covered by the media coverage. In addition there are reports exclusively on cases of rape and infanticide. However, other forms of violence such as female circumcision and early or forced marriage should have a better coverage in so far as girls are hard-hit.
Media survey by Action Aid: Violence against girls in schools in the Gambia from January, February, march 2010.
January
Twelve (12) cases of violence and one analytical article on VAGS were documented.
Type of Abuse and Site
The cases were predominantly cases pf sexual abuse:
•           Eight (8) rape of minors including one case with kidnapping and another one with serious physical after-effects;
•           Two cases of infanticide
•           One case of indecent assault, and one attempted rape.
These violence acts took place in the following areas:
•           At Kololi in the KSMD region; Nema Kunku; at Sukuta in the district of Kombo; in the municipality of Kanifing; at Bundung.
The registered victims were minors aged zero to eight. The average age was 10 – 12 years.
Ten of the victims were of school age while the other two victims were newborn.
February
Ten cases of sexual abuse and two analytical articles  were published in the Daily observer.
Type of Abuse  and Site
The reported cases of abuse were exclusively cases with one leading to the victim's being pregnant. They occurred at Bundung in the Municipality; at the Children's SOS Village in Bakoteh; at Lamin Darang; at Palma Beach in Kotu; at Fajara (KSMD); at Bundung; at Tobacco Road (Banjul); in the village of Sukuta in Kombo North District, and in the village of Sanyang (Kombo District).
The perpetrators were unknown to the victims. However, three recorded cases were perpetrated by the victim's foster mother (Children's SOS Village) who used to force the 13-year-old girl to watch pornographic movies and had a sexual relationship with her.
Violence is found in school, institutions  (such as orphanages and other residential care). On the streets, in the workplaces and in prisons. Children experience violence against children leads to death every year, but most often the violence does not leave visible marks. Yet it is one of the most serious problems affecting children today.
Children may not feel able to report acts of violence for fear of retribution from their abuser. Violence pervades the societies where children grow up. They see it in the media. It is part of the economic, cultural and societal norms that make up the child's environment. It has its roots in issues such as the power relations associated with gender, exclusion, absence of a primary care giver and societal norms that are not protective or respectful of children. Other factors include drugs, availability of firearms, alcohol abuse, unemployment, crime, impunity and culture of silence.
Violence can have severe implications on children's development. In the severe cases, it can lead to injuries and even death. However, it can also affect children's health, their ability to learn or even the willingness to go to school at all. It can lead children to run away from home, exposing them to further life threatening risks. Violence also destroys children's self-confidence and can undermine their ability to good parents in the future. Children subjected to violence have a heightened risk of depression and suicide in later life.
The Child Protection Alliance (CPA) Representative in The Gambia, which supported by UNICEF emphasized in a workshop on sensitization on "violence against children in the Gambia" sharing the main finding and recommendations of the United Nations on this important issue in The Gambia on 20 March 2009.
According to the CPA the global study examines the nature, scope of violence against children in the home and families, schools and educational settings, care and justice institutions, places of work and in the communities.
For further information contact the Child Protection Alliance, Action Aid, UNICEF and Dr Azadeh on Tel: 7774469/3774469.
Read Other Articles In Article (Archive)