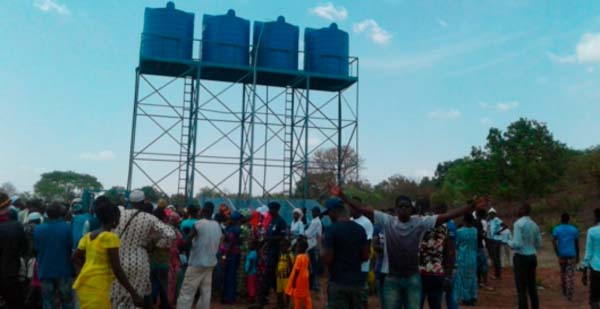 Four villages in the Niamina West district, in the Central River Region, Choya, Sare Bakary, Madina Wallom and Sare Sambel, Saturday, paid tribute to a Danish philanthropist for digging a borehole for the four villages.

Hundreds of people who lived within those villages never had the privilege to have clean drinking before, but thanks to Danish-born Christian Jorgensen this hall changed.
Speaking on behalf of the villagers of Madina Wallow a spokesperson said they are more than happy to have a clean drinking water because it was something they dreamt of for many years.
"We thank Christian Jorgensen for the gesture and we will forever remain grateful to you. Water is vital human life and if you are deprived of it you are not a complete human being," the spokesperson stated.
The Alkalos of Sare Sambel and Bakary shared similar sentiments and expressed how grateful they were to the philanthropist who came to their rescue, saying only God could pay him.
The philanthropist, Christian Jorgensen, in his words, thanked the villagers for appreciating the boreholes and assured them of his continued support.
He has been in The Gambia for three years to date he said and assured the villagers of his continued support. He said his wife has also played vital role in the project.
Jorgensen told the villagers to take proper care of the borehole and work collectively as well as continue to support each other, in that way they could be stronger together.
The Minister of Information, Communication and Infrastructure, Hon. Demba A. Jawo, in his remarks, said he was very delighted to be part of the initiative and give all the support he could.
He stressed that they have been given the boreholes, so it was their turn to take proper care, especially in terms of maintenance.
They know how they suffer in securing clean drinking water for decades, he said, adding that it was time for them to be their own police men and women in using the taps.
The Governor of Central River Region (CRR), Sulayman Barry, said he was very happy to take part in the inauguration, adding that this was the first project he attended since he took office.
"Christian and his team have done their best," he said, adding that they also have to do their best to make sure that the project is sustainable in the area.
Read Other Articles In Article (Archive)