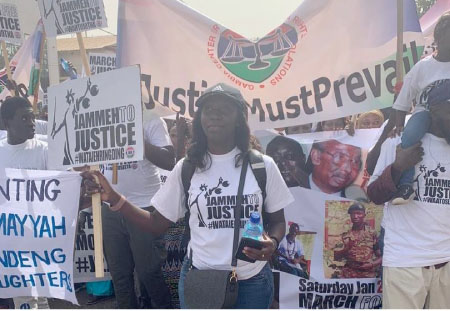 Thousands of Gambians on Saturday took to the streets marching in solidarity with victims as they called on authorities to suspend APRC – the party that orchestrated 22 years of victimisation.

Protesters demanded that the former Gambian leader Yahya Jammeh be brought to justice.
The protest followed a march past staged by supporters of APRC who were calling for Yahya Jammeh's unconditional return – a move that angered his victims across the country.
However, The Gambia's Justice minister last week warned that Jammeh would be "immediately arrested" upon his return and face charges.
"Victims continue to raise concerns that despite the various testimonies by both victims and perpetrators alike, there still exists a section of society that is in blatant denial of the atrocities committed by the former president to the extent of demanding for his return as an ordinary citizen, which is a mockery and a provocation to victims. This provocation can incite violence and jeopardise the ongoing investigation of the TRRC and negatively impact on the reconciliation and healing process, Sheriff Kijera, the chairman of the Victims Center for Human Rights Violations.
He added that it was against this background that the victims community and CSOs were demanding for government to impose a ban or suspend the APRC party until the ongoing TRRC is concluded. The Gambia government condemns any threat towards the victims and take appropriate legal measures for remedy…"
Former PPP interim leader Omar Jallow who took part in the march bashed Jammeh over the campaign for the former president to return to the country.
Omar Amadou Jallow, who is widely known as O.J. said: "After all the treacherous and violations of human rights and people's rights that had happened here in 22 years of Jammeh's regime, all those Gambian sons, daughters who were killed, tortured, raped, still the APRC wants Yaya Jammeh to come back here in honour."
He opined that APRC should have shown remorse, begged for forgiveness and also accepted their faults.
Read Other Articles In Article (Archive)