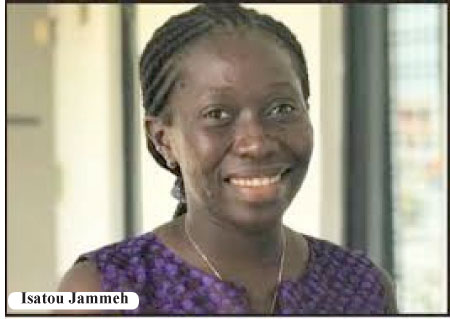 Isatou Jammeh, a staff of The Gambia Centre for Victims of Human Rights Violations has strongly recommended that government should impose a ban or suspension on the opposition Alliance for Patriotic, Reorientation and Construction (APRC) until such a time that the ongoing TRRC is concluded and its recommendations implemented.

This, she believes, would enhance a smooth transitional justice process and for people to reconcile and unite as a nation.
Ms. Jammeh, made this call at a recent press confab ahead of their planned peaceful protest slated for 25 January. Their planned protest came following an earlier protest by APRC, demanding the unconditional return to the country of former President Yaya Jammeh, who is currently living in exile in Equatorial Guinea.
She said; "It is a sad moment, considering the fact that The Gambia is going through a truth seeking and reconciliation process, the APRC protest demanding the return of former President Jammeh to continue living in The Gambia as a free citizen is beyond mockery to the plight of victims as evident to testimonies at the TRRC. The same political party that enabled Jammeh to stifle the God-given voices of all Gambians, tortured, maimed, killed our loved ones and sexually abused our women for 22 years was given a permit to protest for the return of the most cruel and inhumane dictator who victimised the entire country," she said.
Ms. Jammeh, a victim herself, maintained that the victims have appreciated the support of the international community and also recongnised the steps taken by the government so far to address these violations with the setting up of the TRRC.
"We look forward to the support of all CSOs, NGOs and the international partners in ensuring that the recommendations of the TRRC at the end of its mandate are implemented by the President Adama Barrow administration without selective justice and favoritism to enhance the healing process that we are yearning for in the New Gambia," she urged.
She thanked the Ministry of Justice and the government for their reassurance, as they look forward to the day when all the violations committed against "our people are accounted for and the perpetrators brought to justice."
Read Other Articles In Article (Archive)