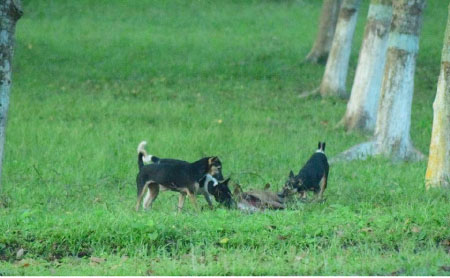 (Issued Monday 21 January 2020)
Stray dogs of Garawol in the Kantora District, Upper River Region (URR) were found eating an unwanted child, The Point can authoritatively report.
The incident was reported to have occurred in the early hours of Saturday morning. A source who is familiar with matter told our reporter that the mother of the newly born-baby has been identified but she is currently at large as police have mounted a search for her.
Our source said: "One Bilal Trawally who was coming from early morning prayers saw the stray dogs eating the baby. He decided to go and see what the stray dogs were eating and only to realise that it was a human being."
Mr. Trawally, our source explained, decided to report the matter to the Garawol Village Development Committee who later informed the police. "The police were later informed about the incident. Marathon search was conducted within the village, but the lady escaped during the process," our source said.
Lamin K. Saidy, a child protection advocate, reacting to this development, condemns the act in its strongest term. He described it as "inhuman," saying that such kind of incidents are "alarming" in the country and is a big concern to child protection advocates.
"We are very concerned about such kind of incidents and it requires high degree of advocacy. I think there's absolutely need for one to conduct assessments on why we're having such kind of incidents because it's surfacing in the country again."
According to him, there should be lot of advocacy that should be conducted in the country in order to stamp out the menace in our society. "We also need to put strong measures in place in ensuring that perpetrators are punished. Again, there're other underlining factors that are contributing to the menace which needed to be also addressed."
Sometimes, he said, the way and manner these girls get pregnant is a concern, saying "who knows that whether sometimes they are being impregnated by their own uncles or someone else. So the best thing they do perhaps is to abandon those babies as they don't want to leave with them in the same society. May be they think the society will not trust them when they're impregnated by their own parents."
As child protection actors, he added, they are doing everything possible in ensuring that they raise awareness on these issues around our communities.
"Our adolescent girls also need to be taught. We hardly discuss on the issue of family planning. When you talk about it people think we're spoiling our children. But I believe if the person knows how to protect herself it will be good. The state needs to take legislative measures as part of their international commitment towards the protection of children."
Read Other Articles In Article (Archive)