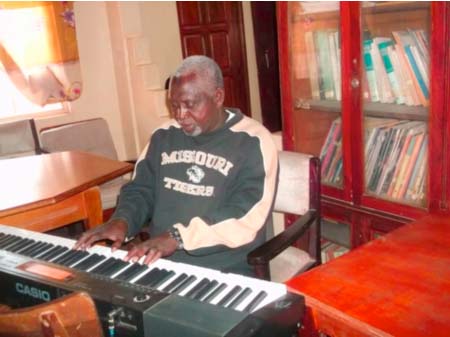 Lie Ngum, a veteran Gambian musician who has spent most of his life as an artiste, now the proprietor of Taranga Beach Resort, has commented on the Gambia's music industry during an interview with The Point Entertainment and Lifestyle.
Mr Ngum is among the oldest artistes, and had played in almost different parts of the world, being recognised as a legend in the art industry.
He has touched most hearts in his tenure as an artiste, singing real issues of live that also contributed in The Gambia music art.
Ngum told Point Entertainment and Lifestyle that the Gambian music industry needs the infrastructure to harness and nurture talent of musicians because, above everything else, music is a very powerful commodity in any economy.
Therefore, he said, it is for artistes to really showcase themselves, to make their contribution to development, and to also inculcate social responsibility in the youths.
According to him, what the industry lacks right now is the support from institutions to enable the artistes become professional people, because is not only to become singers or instrumentalists, and dancer or different categories in the profession.
Stating the importance of music in a country, Ngum highlighted that music tranquilises the animosity with the human ties mostly and, importantly, music is what makes people happy when they are sad; it is the most powerful wagon to mould society.
He added that successful musicians are normally emulated by others, because they are good for society and it is also a tool that disseminates the culture of duty and responsibility in people, and also helps uphold the moral values.
In terms of harness, nurture and exploring, he said, in most countries he has been to music is part of the school curriculum.
Mr Ngum pointed out that President Yahya Jammeh had done a lot of things for the young musicians, but the availability of an institute for the music arts is paramount.
He called for the establishment of the institute of arts, because there is lot of talent within the industry.
He was impressed by the workshop organised NCAC, because he has seen so many talented artistes and all the records based on the songs have been impressed by what they do and how they do it, and that shows that the country has good musicians; all they need is support.
He encouraged the upcoming artistes to carry on in what they are doing, and do more researching, adding that culture is now fashionable around the world.
"I have always said Gambia has got something unique that could be showcase and sell all over the world and people will buy , because it is a good stuff and very soon we start exploring that."
Read Other Articles In Article (Archive)