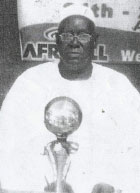 Former footballer Ebrima Drammeh recently passed away. He was an active footballer during his playing days.
Drammeh was born in Banjul at Hagan Street in Drammeh Kunda in 1937.
He attended Mohammedan Primary School from 1943 to 1949 from where he proceeded to Methodist Boys High School between 1949 and 1955.
After completing his school, he worked at the PHD Survey Department up to the rank of chief surveyor.
He continued working there up to his retirement and later had a business of his own on surveying valuation.
In his football career, he started at a very early age when he was playing for Mohammedan Primary School, then to Methodist Boys High School - Aggrey House.
He was the captain and was scouted by the late Francis Ekuforbes when he joined White Phantons from 1959 to 1963.
In 1963, they formed Arrance FC, which went up to 1967 when the team was changed to Adonis FC.
With White Phantons, he won 3 league champions, 3 FA Cups and with Arrance FC, he won the league championship in 1967/8 and in Adonis, he won the league championship in 1972/3.
Ebrima Drammeh also won Cocker's cup in 6/11/66, beating Augustinians by 2 goals to 1.
He made his international debut in 1959 against Cape Verde.
In 28 November 1959, The Gambia beat Cape Verde by 3-2 when he was invited to the squad by Ousman K. Saho and his assistant Pa Luis Prom.
Mr Drammeh made 36 international appearances for the Gambia. He was the Vice Chairman of the Parent Teachers Association (PTA) of Crab Island School.
He was also the first Vice Chairman of the National Draughts Association and also the president of the July 22nd Draughts Vous.
Drammeh, who passed away recently, is survived by a wife and children.
The football fraternity, the Draughts Association, the football Veterans FC Warriors, the Muslim and Christian communities, elders of Banjul shall miss him.
Read Other Articles In Article (Archive)