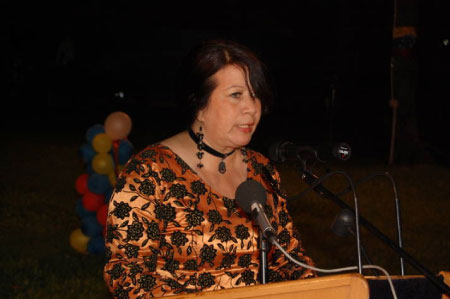 The Ambassador of the Bolivarian Republic of Venezuela to The Gambia, Madam Lourdes Perez, yesterday briefed members of the press on the political situation in Venezuela after the demise of President Hugo Rafael Chavez Frias on 5th March 2013.
Ambassador Lourdes Perez was talking to journalists at the Venezuela Embassy in Kotu.
She revealed that since the supreme commander and leader of the Bolivarian revolution Hugo Chavez came to power in 1999, Venezuela has witnessed 16 elections out of which, Chavez won 15 and the latter being on the 7th October 2012.
According to her, the late President Chavez has left his policies and procedures in line with the principles of the constitution of the Bolivarian Republic of Venezuela, the first constitution drafted and approved by the people through a referendum in December 1999, which provides all the mechanisms under what should be done in case of temporary or absolute absence of the head of state or president assuming the presidency of the Republic.
She noted that as provided for by the Venezuelan constitution under article 233, when the president of the republic becomes permanently unavailable to serve during the first four years of his constitutional term of office, a new election by universal suffrage and direct ballot shall be held within 30 consecutive days.
This, she added, is why election is due to be held on April 14, 2013.
She stressed that the struggle of the people of Venezuela will continue, as well as the legacy left by their commander, President Chavez.
Ambassador Lourdes Perez further stated that these days, 'the Venezuelan opposition is led by the same people, who in 2002 carried out a conspiracy to end the days of the Bolivarian Revolution.
"They are now playing a game to ignore the CNE, the body of the electoral process in Venezuela, and that authorities from the EU to the Organisation of American States, among others, have recognized the transparency of all the electoral ballots,' she added.
The Venezuela Ambassador revealed that the Bolivarian revolution fostered in sovereignty and independence as the legacy of their beloved Chavez.
"Latin American integration is one of his greatest contributions to this struggle of centuries, in which Venezuela is the center of South American geopolitical map," she said.
She finally assured the journalists that the supreme commader of the Bolivarian Revolution will live forever, and that the struggle would continue.
Read Other Articles In Article (Archive)