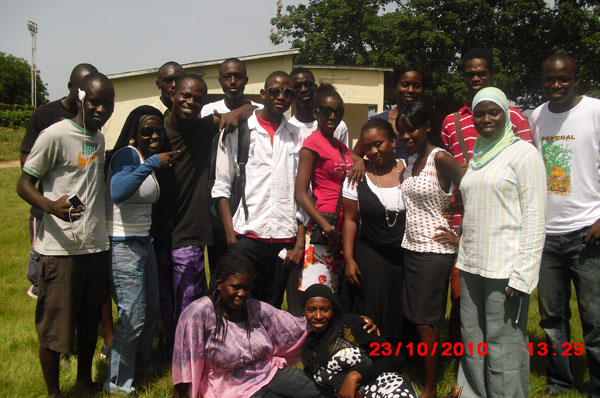 The University of the Gambia observes another students' week with the theme "Youth against Drug Abuse" at the Friendship Hotel in Bakau. It could be recalled that the University observes Students' week almost every year in other to bring students' from all departments to socialize.
This year's theme is in line with president Jammeh's call to fight against drug abuse. The organizing committee has been working tirelessly to make sure all the activities come to pass. The students' week is a platform in which students meet, share ideas, develop their interpersonal skills, discuss issues affecting youths as well as create an environment which makes the students from different faculties feel and belong together. The sports committee under the organizing Committee is responsible for organizing and developing sporting activities, the debate Association is responsible for organizing debates and the Cultural club is responsible for the cultural night which makes it possible for students to wear and showcase their cultural outfit and dance to their music.
"We have introduced basketball this year unlike last year which only had football and marathon," said Sait Matty Jaw, the Deputy Sports Minister of the Organizing Committee. He also added that the Sports Committee is doing its best to create the environment where students engage in sports in other to build a healthy mind and body, and environment as well as foster an unbreakable bond through sports.
Speaking to Bring it on, Muhammed Njie, the President of the University Debate Association said that the Debates were both educating and entertaining.
"Students from the different groups made very compelling arguments on the topics they were assigned," he said. They debated on a wide range of issues. The debate final was done at West Coast Radio. Finally group three emerged the victor.
"The debate was an interesting one and I am sure all the listeners found it a very edifying experience," he added.
Muhammed Njie also urged the general public and the University students to always tune into West Coast Radio at 8pm every Friday to listen to the UTG Debate Association program. He thanked West Coast Radio for the support they have given UTG club. The UTG, besides students' weeks, brings students together through the organizing committee and cultural clubs in different ways like seminars, debates and country- wide tours.
Read Other Articles In Article (Archive)