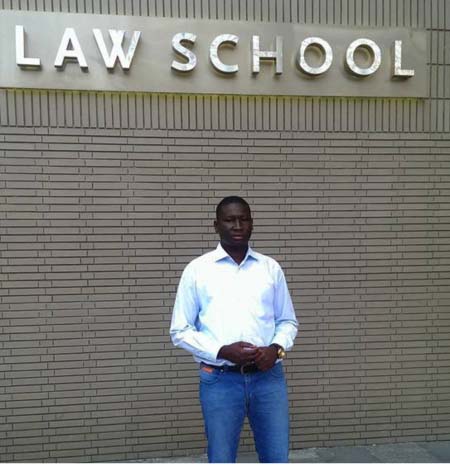 Whoever said that University of The Gambia graduates or certificates are not recognised internationally must be having a rethink these days.

Famara Singhateh, a UTG law graduate, has bagged a coveted position as head of Gambia Desk with A- Law firm in Brussels, Belgium.
His areas of specialisation for his new employer are Gambian law on trade and investment, banking and finance, insurance, commercial law and practices, establishment or acquisition, license requests and public procurement policies and regulations.
Barrister Singhateh never travelled outside the shores of The Gambia for higher education but stayed in The Gambia and obtained HTC from Gambia College, diploma in law at GTTI and a Bachelor of Law degree at UTG.
He further went on to obtain his Barrister at Law (BL) at Gambia Law School in Banjul and from there he was admitted to Gambia Bar as a barrister and solicitor of the Supreme Court of The Gambia.
Well before his engagement with A-Law International Firm, Mr Singhateh worked for FBN Bank Gambia Limited as the first country head, Legal Affairs, which came after he served the same institution as country head, Human Resources and Administration at the same time as the chief anti-money laundering officer.
Prior to his stint with the bank, he worked in both insurance and education sectors in The Gambia.
Read Other Articles In Article (Archive)