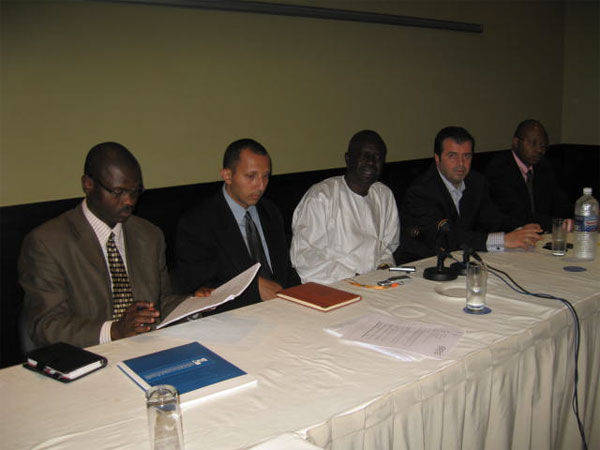 Officials of the Royal Atlantic Residence Company have revealed that they are set to invest a capital of US$47 million in The Gambia. After more than a year of consultations and formalisation, officials of the multi-million dollar company briefed journalists on Wednesday about the project at a press briefing held at the Sheraton Hotel in Brufut.
The shareholders of this multimillion initiative include a renowned Gambian business tycoon, Mr. Amadou Samba, Mr. Mohammed Bazzi the CEO of Gam Petroleum, and also the Islamic Corporation for Development of the private sector (ICD).
Addressing the press conference Mr. Seedy Keita, Division Chief of Finance and Treasury, ICD, who chaired the occasion, justified the rationale for the investment of the project in The Gambia.  He said that the investment is due to the stable macro economy, peace and stability of the country as well as a driven demand from the people. He also noted that the country is a member of ICD.
He thanked the Gambia government for their support and commitment in hosting such a magnificent project.
Underlining his confidence in the calibre of people involved in the business, Mr. Keita expressed optimism that the project would be successful. " The project has its own merits. We have local sponsors. The recent launch of a Gam Petroleum fuel depot in the country is a clear testimony as to the positive direction of the project," he said.
According to Mr. Bazzi, Gam Petroleum CEO, the project is the first of its kind in sub-Saharan Africa. He said that they have a different design for different people. Mr. Bazzi added that they would be building high-class residences with swimming pools, conference centres, apartments and houses among a host of other attractions.
According to Mr Samba, the project will commence on July 22nd 2008, and will create a lot of opportunities for The Gambia, such as employment and the use of local materials. He assured the country of the high quality work the company will be doing.
Mr. Sherif Ayoub, Investment Manager, Investment operations Department ICD, made similar remarks.
Meanwhile, according to officials of the Royal Atlantic Residence Company, the master plan of the buildings will consist of Moroccan and Spanish style architecture for the initial 70 villas.
The officials further revealed that the first phase of the project would be located on the coast in the Senegambia area.
Read Other Articles In Article (Archive)