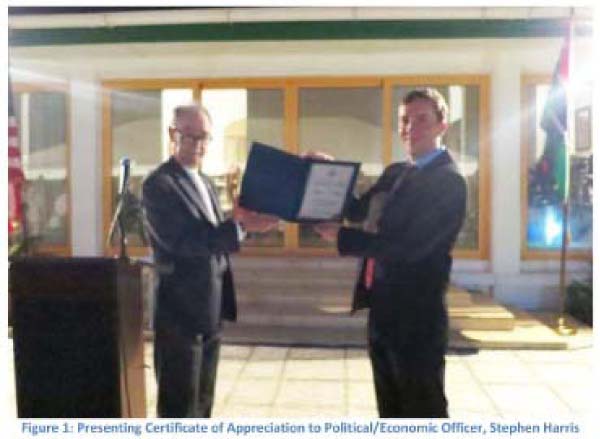 Charge d'Affaires, a.i. Joseph D. Stafford hosted a welcome-farewell reception for two of the US Embassy's officers on May 21, 2015.
The reception introduced the new Public Affairs Officer Janel Heird, to embassy partners and contacts.
In a brief speech, Ms Heird said she was looking forward to working with her Gambian counterparts and to continuing the Embassy's commitment to building strong relations with the Gambian government and its people.
Ms Heird previously served in Cameroon and in Paris at the US Mission to UNESCO.
Ms Heird is accompanied by her husband, Evan Heird, who is a musician and actor.
In a slightly somber tone, Charge d'Affaires, a.i. Joseph Stafford bade farewell to political and Economic Officer Stephen Harris.
The Charge' presented Mr Harris with a certificate of Appreciation for his outstanding work at the Embassy.
In his short term at the Embassy, the Charge' stated that he had come to rely on Mr Harris for guidance and information.
"He handled his first tour like a seasoned diplomat," said the Charge', who commended Mr Harris for his contributions in promoting trade, human rights, and strengthening bilateral relationship between the US and The Gambia.
Mr Harris is returning the United States for a year before embarking on his next tour as a Consular Officer in Buenos Aires, Argentina.
In his farewell remarks, Mr Harris spoke of how much he enjoyed his time in The Gambia, praising the warmth of the people and the good work they were able to accomplish together.
He said he would always remember his time here fondly and will miss the friends he made.
Read Other Articles In Article (Archive)