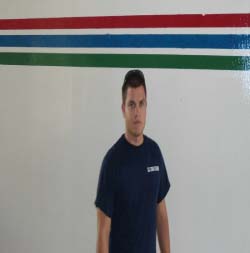 US coast guards on board US Coast Guard Cutter Forward that docked in Banjul last week, in conjunction with their Gambian counterparts at the Royal Victoria Teaching Hospital in Banjul, recently embarked on a cleansing and refurbishing exercise as part of their visit and community programme.
A 270-foot medium endurance cutter ported in Portsmouth, the cutter's mission included migrants and drug interdiction, search and rescue, law enforcement, hurricane response and foreign aid and relief.
Speaking to The Point after the cleansing exercise, one of the coast guards, Ensign Blake Morris, said they had learned from their colleagues, and "cleaning the hospital is very important" to ensure the environment is free from dirt and filth.
"The Gambia has professional navy officers; they have done some painting on the walls bearing Gambian flag. Our work does not only stop at sea; we also offer humanitarian assistance to our partners," he said.
They hope to build the capacity of the Gambia navy to be more professional, Mr Morris said, adding that they help their partners to build their maritime security as the US Government attaches great importance to maritime security.
"We are sharing our knowledge to make the armed forces more efficient. The mission also seeks to increase resident host nations' capabilities by working with their African partners to ensure a prosperous maritime environment and foster a strong relationship as well as to build relationship with West African countries to experience the opportunities we have at the US," the US senior coast guard added.
The US Coast Guard is very concerned about maritime security, he said, adding that they are also concerned about terrorism, narco-trafficking and illegal activities in the sea.
For his part, Ensign Ryan Thomas, also of the US Coast Guard, explained the idea behind the clean-up exercise at the hospital, saying it is also part of their mission and work as seamen.
 "It is part of our assigned patrol schedule to be done here," he said.  "We have visited other countries like Liberia and Sierra Leone, and have cleaned up rooms, fixed windows and did some painting on walls. It's really amazing being here to render a helping hand."
Mr Thomas also said they have been working with navies on training and capacity building.
 The United States chief diplomat to The Gambia was also briefly at the hospital to see the work of his countrymen.
Read Other Articles In Article (Archive)