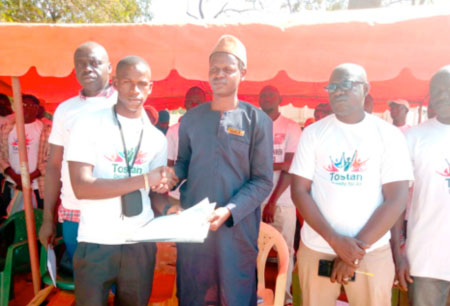 Young people in the Upper River Region (URR) have asked the government to establish more tertiary education institutions and job opportunities in the rural areas to help mitigate the mass movement of young people from rural to urban areas in pursuit of education and employment.

"We are calling for the creation of jobs and employable opportunities for youths, especially those who graduated from schools. We also ask for the encouragement of youth to attend tertiary institutions to acquire the requisite skills and know how through the provision of scholarships to deserving students." Abdoulie Sanneh, a student of Nasir Secondary School who read a resolution that was agreed at a Tostan organised youth forum said.
Reading the resolution on behalf of over two hundred young people, Mr Sanneh said they want provision of medical facilities and equipment to health facilities throughout the region, saying that will enhance their health and wellbeing. "We are equally calling for the construction of a regional library to reinforce the culture of reading for young people and improve our academic performance."
International NGO; Tostan, that started operating in URR in 2006 to empower African communities by bringing about sustainable development and positive social transformation based on respect for human rights and dignity for all, organised the three-day forum over the weekend.
The resolution which was presented to the region's deputy governor, Samba Bah,
Was unanimously agreed by the participants at the forum.
During the forum, presentations were based on the Tostan community empowerment programme, theory of social change, youth, human rights and democracy, youth reproductive health, gender based violence and youth and migration among others
"As young people, there are few key areas that are of immense value to us and we strongly believe that these are attainable when we are given the support needed and we work together to move our dear country forward."
According to him, there is a need for the provision of credit and soft loan facilities or start-up capital for unemployed youth who received skills training to establish their own business ventures.
"We want incentives and motivation facilities for teachers, lecturers and professionals in youth related skills and employment institutions especially in the rural areas. Again, there's a need for the establishment and promotion of agricultural related initiatives to encourage more youths to involve in farming and agricultural related activities to enhance food self-sufficiency."
He said there's need for establishing proper measures, policies and laws in place and their enforcement to protect youths and young people from all forms of Sexual and Gender Based Violence.
"We are more than grateful to Tostan for organising such educative event for young people. We will share with our fellow students and youths in our schools and communities. We therefore appeal for the needed support, guidance and encouragement from the government in these areas as they significantly affect the lives and livelihoods of youths."
Mr Sanneh said they hope that the resolutions will be considered and implemented as they will make the youths to be part of the decision making processes in their region and the country as a whole. "We promise that, once the needed support is given to youths, we will undoubtedly contribute our quota towards National Development with pride and respect for the country that we dearly love."
Read Other Articles In Article (Archive)