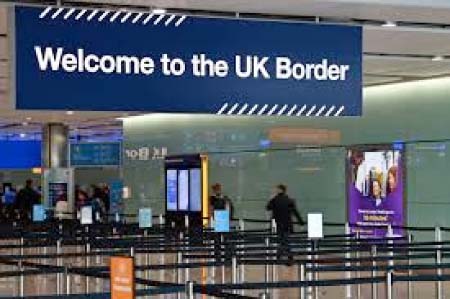 Following Brexit and UK's final departure from the European Union (EU), ''unskilled workers'' and ''non-English speakers'' from West Africa will be among those migrants not to be granted visas to enter Britain.

Even though it is not clear whether or not those currently living in the country will be included, it would be a fundamental overhaul of the country's immigration system.
Already there are thousands of such West African migrants across Britain and according to the definition, ''skilled workers'' would include those migrants who obtained 'A' Levels or Scottish-equivalent standard.
The Point can also ascertain that if fully implemented in post-Brexit Britain, several jobs such as waiting staff, farm and factory work, hotels, restaurants, warehouses etc filled by several West Africans and other migrants from around the world will be hugely affected.
But these popular jobs are among those to be removed from the ''new skilled'' grouping thus causing the uncertainty.
Many migrants especially those from Francophone West Africa speak little or no English upon arrival but are usually assisted to learn as they eventually settle down.
Consequently, the government would introduce a ''point based'' immigration system which was extremely difficult to implement even though it was highlighted severally and mentioned numerous times in the Tories election manifestos.
Gauging opinions from several West Africans, this correspondent can equally attest that there is no doubt the rules will shake the workers. Subsequently, the considerable number of people who lived and worked in the country for several years may also be squeezed.
It could be recalled few weeks ago that the UK overwhelming voted to leave the EU 47 years after it joined in 1973. Thus such rules remained in the Conservative policy and implementation is a priority.
Already concerned Gambians and Senegalese who relied on the EU Freedom of Movement and those considered as ''new arrivals'' to the country from within the EU may also lose the right to permanent residence.
Following the announcement, the opposition Labour party decried it as ''hostile…making it even harder to attract workers''.
But previously Prime Minister Boris Johnson, said that the departure from the EU was ''astonishing moment of hope…potentially a moment of real national renewal and change''. He called for ''changes''.
For this reason, the government is extremely serious and awfully determined and had already urged employers to ''move away from relying on ''cheap labor''.
On its part, the Scottish Nation Party (SNP) strongly argued that it is a ''ridiculous and dangerous idea''.
UNISON representing health workers across the country, an area that would be seriously affected also called it ''...absolute disaster for the care sector''.
So far the so-called ''overseas citizens'' would need at least 70 points to be accepted and the salary for skilled workers who wish to enter the country legally is 25,600 pounds instead of 30,000 pounds as previously demanded.
Read Other Articles In Article (Archive)