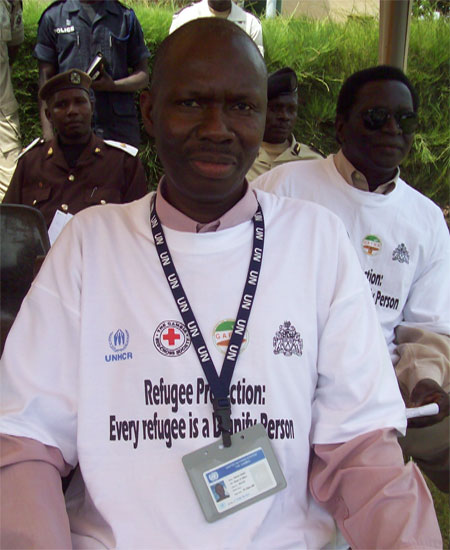 The Head of Mission at the UNHCR has again stressed that cessation is an international instrument that enables a refugee to cease being a refugee.
Sekou K. Saho, the Head of Mission UNHCR in The Gambia, said cessation means refugees ceasing to be refugees. "People can't be refugees forever, especially when there was war and the war is over. This is the case of Sierra Leonean refugees. From the 31st of December 2008 the UNHCR is going to close cessation for Sierra Leonean refugees. UNHCR will tell all Sierra Leonean nationals that they are no longer refugees. He said there are two who think they can't go back home once cessation is declared. "There are a few who still need protection, they could be interviewed by authorities and would let them stay if their causes are genuine," he said.
Mr. Saho further said that a Voluntary Repatriation, scheme known as "Vol Rep" exists. This allows the refugee to return home with dignity. They are given $100 for adults and $50 for each child plus tickets.
Talking on the condition of travel, Sekou Sahou says, "It depends on if the place you are returning to is safe. If the authorities in the country of origin say it is safe for refugees to return, then we can send the refugees." The process for refugee return is slow because it passes through a process. "We wait for them to say it is convenient to send the refugees. Many are anxious to see their home but this is what holds them from going as expected. They should just be patient and they will go," he said.
Saho, the Head of Mission, said the other part of the refugee issue is integration in the country. "We know that some are married to Gambians but for others who want it we would help to get work permit, thank God the Alien Card was wavered by President Jammeh including refugees. UNHCR will help with resident and work permits come January 2009. We shall pay for two years after that you are no longer a refugee.
The third option is resettlement. There is no resettlement now but families overseas can file in for resettlement, Mass Resettlement has ceased for Liberian and Sierra Leonean refugees.
He said refugees who prefer repatriation should go to the office and fill the VFDF form with four passport photos and your refugee card as evidence for adults. Some, he said, give up their place because they are returning home. This, he said, was wrong as their going arrangement is slow but sure. In conclusion he said, "If the number of refugees is large then we can help to arrange for a boat
Read Other Articles In Article (Archive)