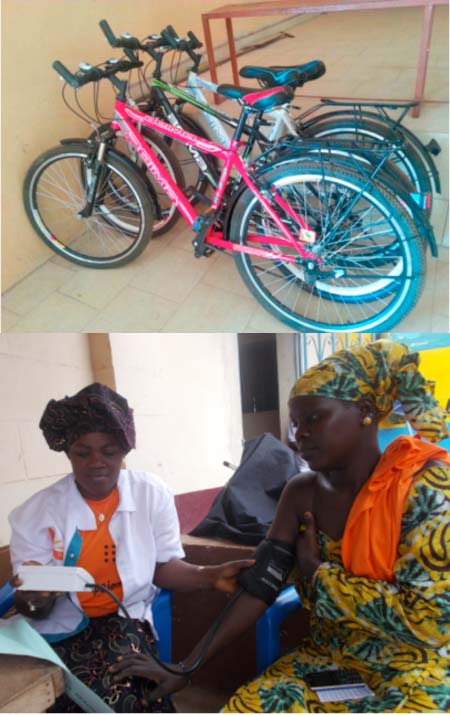 The United Nations Population Fund (UNFPA) and partners held a drawing contest between students to test their understanding on Family Planning and related issues on Monday.

They aim was to create greater understanding on family planning services and commodities; generate demand for uptake of family planning services in communities, register new family planning acceptors in Lower River and Upper River Regions and Dispel myths around family planning.
As part the campaign in URR, School children from eight schools in region six namely: Kobakunda, St. Joseph's and St. George's Lower Basic schools, St. Mulumba's, St. George's and Nasir Upper Basic schools and St. George's and Nasir Senior Secondary schools took part.
The students drew their ideas about family caring or how they imagine their families in the future. This related to the size of the family and relationships between them which they drew to illustrate the message.
Winners of Lower Basic Schools are; Lamin Bah, St. Joseph's, 1st position. He was awarded educational items and a brand new bicycle. Maria School, were both awarded educational items.
Prizes for the Upper Basic categories went to Kaddijatou Sidibeh of Nasir Upper Basic School. She was awarded a brand new bicycle and educational items, while Juldeh S. Bah and Alhagie Touray of St. George's Upper Basic School each received educational items.
For the Senior Secondary school categories, Momodou AF Jallow took 1st and he received educational items and a brand new bicycle. Saidou Camara from Nasir Senior was 2nd and Doris K. Jatta from St. George's Senior Secondary School was 3rd.
The Family Planning Area Manager for URR applauded the UNFPA-The Gambia office for their efforts in scaling up their family planning programming which can greatly support the country in harnessing the demographic dividend and, ultimately, reduce poverty.
Seedy Jagne made this statement during an interview with reporters at the end of the UNFPA's three-day campaign to Scale up Family Planning Uptake in The Gambia, URR, on the theme "Family Planning: YES to CHOICE, NO to CHANCE" which specifically targeted young women and men both in and out of schools in the URR and LRR.
According to Jagne, the campaign is important, especially in their areas of operations whereby it helps them sensitize people in order to understand what family planning is all about.
He said if "you talk about family planning, you talk about the health of mothers and their children," thus stressing that UNFPA is one of the key collaborators with The Gambia Family Planning Association.
He said the contraceptives the UNFPA is giving out to their volunteers in URR are expensive, adding that "those contraceptives are not easy to buy" but with the kind gesture from the UNFPA; their volunteers are getting them free.
Mariam Joof, a Midwife at Basse Major Health Centre, also spoke to The Point expressing her profound thanks to the UNFPA and SOS Mother's Clinic from Bakoteh for making their work in the region easy when it comes to Voluntary Counselling Tests (VCT).
Ma-Fanta Tambajang, a volunteer from Nyakoi Bani in Wuli West, described UNFPA's campaign as an important campaign.
She called on the people of the region, especially her womenfolk, to always grab such opportunities whenever they get to their doorstep.
Read Other Articles In Article (Archive)