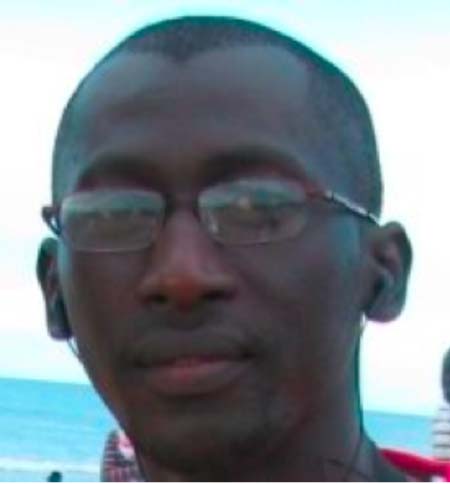 UNFPA Gambia office has disbursed D1,668,095 to the National Youth Council (NYC) of the Gambia towards the implementation of agreed activities in the NYC 2015 Annual Work Plan (AWP).
The handing-over, which took place on 7 July 2015, was done at the UNFPA hall at the UN House, Cape Point, Bakau.
Speaking at the ceremony, Alhagie Kolley, National Programme Officer on Reproductive Health & HIV/AIDS for UNFPA Gambia, said: "The funds are for the agreed activities in the 2015 Work Plan."
UNFPA places great premium on youthful people, especially on their accessing information and services on sexual and reproductive health (SGH) including HIV/AIDS.
He said the activities are intended to strengthen capacity to provide SRH and HIV prevention information and services to young people, which will contribute to attaining one of the UNDAF Outcomes and increased access to the utilization of quality maternal and newborn health services.
Lamin Camara, National Programme Associate of UNFPA, expressed his confidence in NYC and reiterated that his office "will always be available for any support towards the implementation of the activities".
He encouraged the youth to timely implement the activities and report back as agreed, citing disbursement as an opportunity for greater collaborations in the future.
Lamin Darboe, executive director of National Youth Council (NYC), thanked UNFPA for the support, saying it was timely and encouraging.
Mr Darboe said no country can reap the benefits of its demographic dividend without investing in its youth.
According to him, the support received from UNFPA "will go a long way in facilitating the effective and timely implementation of the planned activities" which include capacity building, celebration of international youth day, seminars on RH and HIV/AIDS, refurbishment of Pakalinding Youth Centre, Youth summer camp, production of a newsletter on AYSRH,youth policy review, monitoring and evaluation.
He assured UNFPA team of his office's commitment to effective implementation of the activities and promised to put the monies into good use.
Commenting on the background of the project, Mr Darboe buttressed the National Youth Council 2015 Annual Work Plan (AWP) response to the national priorities on youth as reflected in Vision 2020, the Programme for Accelerated Growth and Employment (PAGE), and the United Nations Development Assistance Framework (UNDAF) in The Gambia.
He added that the project has been aligned with the new direction of UNFPA revised strategic plan approved by the Executive Board and will contribute to the overall UNFPA goal, ''to achieve universal access to sexual and reproductive health, promote reproductive rights, reduce maternal mortality, and accelerate progress on the ICPD agenda".
Adolescence is a period of great physical and psychological changes. This age is faced with problems related to sexual and reproductive health (SRH) issues, substance use and mental health challenges, teenage pregnancy, HIV/AIDS and STI infections, violence, discrimination and accidents among other socioeconomic and psychological challenges.
According to State of World Children Report 2011, complications related to pregnancy and childbirth are among the leading causes of death worldwide for adolescent girls between the ages of 15 and 19.
This also increases their risk to Sexually Transmitted Infections (STIs), and unsafe abortion, the report stated, adding that injuries, HIV/AIDS, disabilities continued to become life-threatening challenges for adolescents worldwide.
Access to quality health services and information is essential for general health and development of adolescents, particularly those in the rural communities, the report notes.
However, it says, access to these lifesaving services and information to adolescents remains a major challenge for most adolescents in The Gambia, particularly in the rural communities.
Youth friendly sexual and reproductive health service providers are limited and mostly in the urban centres, according to the report.
"In many instances, young people are not aware of the services offered even where they exist in addition to the stigma attached to adolescent's uptake of such services."
National Youth Council (NYC) of The Gambia, since inception has been working with various community youth centres across the country to provide SRH services and information to young people.
"These centres, over the years, through the support of UNFPA Gambia, in addition to our life skills training, have increased access to service and information uptake among young people, provided space for their positive socialisation, increased their confidence and hopefulness of the future and instilling in them a sense of belonging.
SRH services like counselling, peer health education and distribution of family planning materials such as condoms, other contraceptives, nutritional advice/support and other youth friendly services are provided at these centres alongside sporting facilities, space for hosting youth meetings and residents to mobilise funds for sustainability.
The proposed activities will contribute to achieving outcomes 2, 5 and 7 of the UNFPA's new strategic plan, namely outcome 2:Increased access to and utilization of quality maternal and newborn health services; outcome 5: Gender equality and reproductive rights advanced, particularly through advocacy and implementation of laws and policies; and outcome 7: Improved data availability and analysis resulting in evidence-based decision-making and policy formulation around population dynamics, SRH (including family planning), and gender equality.
The above outcome is linked to UNDAF outcome 4: 'Increased equitable access and coverage of quality reproductive, maternal, newborn and child health services and improved response to the main diseases'.
These outcomes will contribute to achievement of universal access to SRH, realization of reproductive health rights, and reduction of maternal mortality thereby accelerating progress on ICPD agenda.
All these can be achieved by improving the lives of young people, the report said.
Jacqueline Sylva, finance and admin manager, and Mberry Jobe Sonko, programme officer of NYC, also spoke on the occasion.
Read Other Articles In Article (Archive)