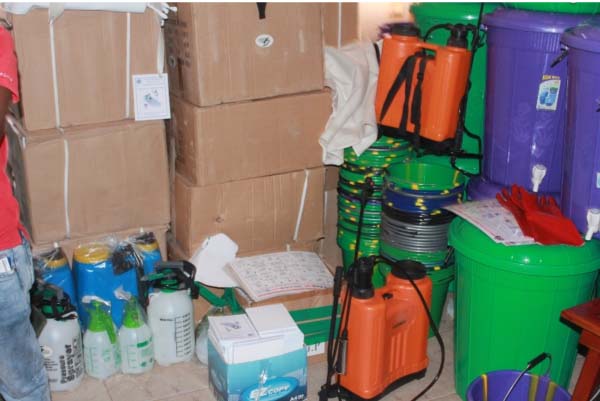 The UN System in The Gambia through the WHO country office on Tuesday presented medical equipment worth D1.5 million to the Ministry of Health and Social Welfare in Banjul.
The donated items are to support the national preparedness and response efforts against the Ebola virus disease outbreak in West Africa.
The items included complete hand washing stations, hand-held sprayers, back-pack sprayers, heavy duty aprons, gum boots, heavy duty gloves, 1000 copies of posters demonstrating the donning and removal of PPEs and a thousand copies of the WHO pocket guide for clinical management of EVD. Speaking at the presentation ceremony, the WHO country representative, Dr Charles Sagoe Moses the Ebola outbreak in March 2014 in Guinea, then Liberia, Sierra Leone, and Nigeria is now in neighboring Senegal.
He described this outbreak as a threat to all African countries and the world, adding that in this regard, countries which are not yet affected like The Gambia needed to reinforce existing Ebola preparedness and response measures.
He added that there is a need to intensify support to strengthen surveillance, investigation of alert cases and clinical management.
"You will recall that the joint effort of the United Nations System began at the very onset when the Gambia declared a state of preparedness for Ebola Virus disease in March 2014," he said.
Dr. Sagoe Moses revealed that through technical, financial and material support, the UN System working closely with the Health ministry has been able to implement several activities.
These include development of the national Ebola virus disease preparedness and response plan, nationwide training and sensitization sessions for health-care workers, as well as traditional and religious rulers.
Also support to the ongoing sensitization of the general public via the print and electronic media; provision of Ebola technical guidelines for case management, surveillance, infection prevention and control; and technical support for the organization of the different technical subcommittees required for an effective and efficient EVD response, among others.
In addition, 300 heavy duty PPEs have been procured, plus another 500 light weight PPEs, which are being shipped to the country by WHO-AFRO.
He further disclosed that the UN System is mobilizing further resources, and remains firmly committed to supporting The Gambia to prepare for the Ebola virus.
Dr. Omar Sey, the minister for Health and Social Welfare, thanked the UN System for the donated materials, adding that this would supplement government's efforts and strengthen Ebola preparedness activities. 
Read Other Articles In Article (Archive)