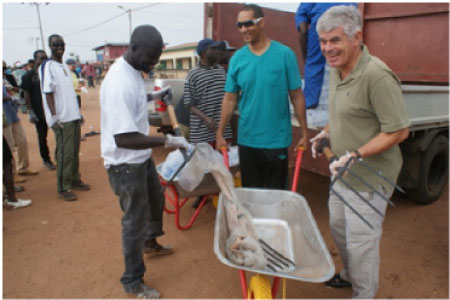 Staff of the US Embassy in The Gambia, in partnership with the National Environment Agency (NEA) and the community of Sukuta, on Saturday embarked on a cleansing exercise at the Tanji Beach to mark the Earth Day.
Edward M. Alford, US Ambassador to The Gambia, said the initiative formed part of their green effort to improve the environment.
Explaining that they are doing the exercise worldwide every year with various projects purposely to mark the Earth Day, Ambassador Alford said they will do a different thing each year that has to do with the environment.
He encourages everyone to celebrate the Earth Day by doing something that will improve the environment.
For his part, Joshua Shrager, US Embassy's public affairs officer, said the cleansing exercise is a partnership between them, the NEA and the community of Tanji.
Keeping the environment clean is something that every one needs to come and do together, he said, adding that they are part of the community and are working with the people to make Tanji and The Gambia clean.
Laibo Manneh, VDC Chairman, said they thank the American Embassy for working with the community to clean the Tanji Beach.
Many people are visiting the beach, both Gambians and non-Gambians alike, so it is very important to keep the beach clean, he says.
Their problem, however, is dumping site, Manneh said, adding that the last time they identified a dumping site, they invited the NEA, the area council and the Physical Planning for sightseeing and advice.
"We went to the place, identified it and they recommended the place and we used the place as a dumping site," he added.
Manneh said further that after they started dumping there, they one day got a message from the Alkalo saying the NEA said they should stop dumping at the allocated site.
Since they are left with no place to dump, thereafter, they decided to be dumping dirt and other rubbish on the beach.
The Government should assist them with a dumping site because "we can't make the beach clean without a proper dumping site", he said.
Read Other Articles In Article (Archive)