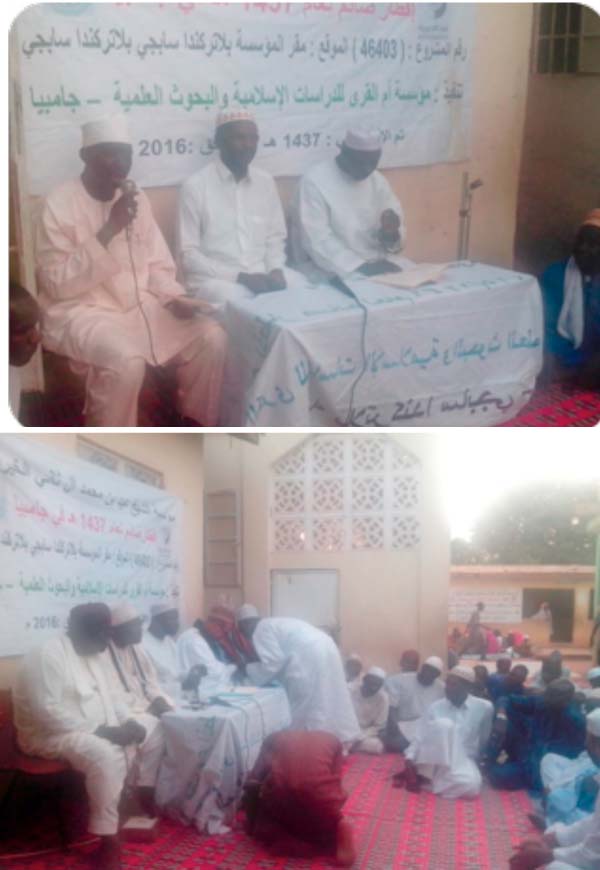 The Ummul Qura Foundation Gambia, in collaboration with Sheikh EID Charity Foundation in Qatar, recently organised breaking of fast for Muslims in Latrikunda Sabiji recently.

Ummul Qura Foundation is a charitable organization in The Gambia, which usually organizes fast-breaking for Muslims in The Gambia.
They also give a helping hand to the orphans (children who lost their parents), and carry out Ramadan and Tobaski gifts to Muslims.
Ummul Qura Foundation provides help to over 143 orphans around the country, who every four months collect their allowances from the foundation's headquarters in Latrikunda-Sabiji.
The allowance is aimed at sponsoring their schooling, health, feeding among other things. The foundation also helps in the building of schools and mosques in the communities.
Sheikh Ahmat Jonga, secretary general of the orghanisation, said the Ramadan fast-breaking project or initiative is aimed at boosting the integrity of the Muslims or putting a smile on the faces of Muslims, especially the needy or the average ones in the holy month of Ramadan.
He noted that it is based on the Hadiths of the Prophet Muhammed (PHUB) that anyone who gives a gift to any Muslim to break his or her fast would get equal reward and blessing.
"That is why whenever it is time for Ramadan the Ummul Qura Foundation links with its donors to facilitate helping the needy Muslims on the ground," Oustass Jonga said.
The Ummul Qura Foundation organised fast breaking at Sinchu Alagie, Sukuta, Serekunda London Corner, Kotu South, and latrikunda-Sabiji, Bundung, Sukuta Nema, and King Fahad Mosque in Banjul, Sanchaba-Sulay Jobe, and closed at Sinchu Alagie at Sheikh Mustapha Lowe Islamic Institute.
Oustass Ahmed Jassey, vice principal of Sheikh Mustapha Lowe Islamic Institute, under Ummul Qura Foundation branch in Sinchu Alagie, spoke at length on the importance of Ramadan gift to a fasting Muslim to break his or her fast, especially the needy ones.
Oustass Jassey said the Almighty Allah said he is the only one who is going to reward the fasting Muslim.
He stressed that it is only the God-fearing people who will fast, as one will see food or even can't eat without the notice of anyone - but a true Muslim abandons all that for God's sake.
Imam Ousman Jah, an Executive Committee member of the organization, also spoke at length on the importance of sharing with the needy in the month of Ramadan.
Read Other Articles In Article (Archive)