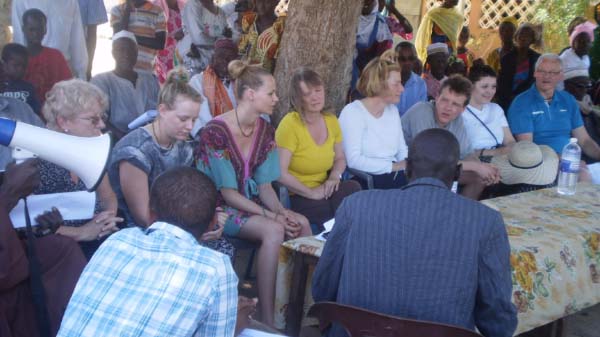 The Principal of Banni Basic Cycle in the North Bank Region has applauded FAWKHAM Primary School in the UK for building strong partnership with the school over the years in enhancing effective learning and teaching.
Muhamed Bessan was speaking recently at the school during the weeklong visit of officials of FAWKHAM Primary School.
He said the partnership between the two institutions had contributed immensely to the capacity development of teacher coordinator, citing the annual exchange visit to the UK.
The school principal thanked the sister school for the foresight in establishing the link in 2010, saying the partnership had supported in providing teaching and learning materials over the years.
Sue Thompson International Partnership Coordinator in the UK applauded the school for their commitment to the attainment of quality education.
She said the partnership aims to complement government's efforts at improving teaching and learning, noting the provision of adequate teaching and learning materials.
Commenting on the partnership, she said FAWKHAM Church has adopted Banni Basic Cycle School and have it as part of the church charity list.
In 2010 FAWKHAM School provided D256,000 to fence the school orchard to enhance income level and promote planting of fruit trees, she recalled, adding that the church has also promised to construct more classrooms for the school and IT labs in the near future
Tumbul Touray, chairman of the School Management Committee, lauded the support the school has benefitted from the partnership and assured of their commitment to strengthening the link.
Sambujang Conteh, director of RAID, and Lang Conteh, VDC chairman, both praised the donor for building link with Banniba Association in the UK, saying it would promote cultural sharing and cooperation.
Mariama Touray, president of the Mother Club, assures mother support to the education and retention of girls in school. 
Read Other Articles In Article (Archive)