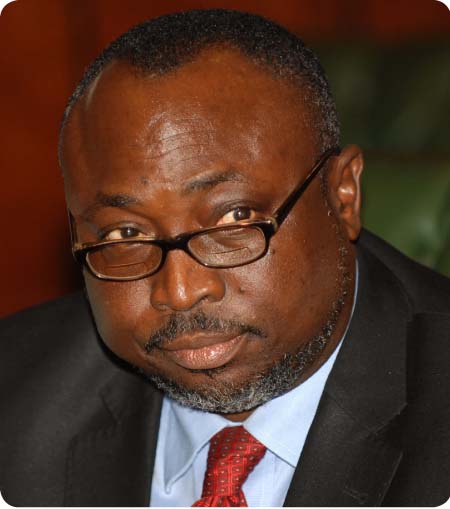 Former Chief Justice Joseph Wowo yesterday through his counsel filed a no-case-to-answer submission in the trial involving him and former Attorney General Lamin AMS Jobarteh, at the Special Criminal Court in Banjul before Justice Emmanuel Nkea.
Justice Wowo and Lamin A.M.S. Jobarteh were arraigned on a thirteen-count indictment which included abuse of office, conspiracy to defeat Justice and interference with witnesses, offences relating to Judicial proceeding, to giving false informing to a public officer.
In his submission, defence counsel Ozuma stated that the 1st accused person, Justice Wowo, was charged with 13 counts based on information dated 19 August 2013.
He submitted that it was trite law that in a criminal case all the elements in the alleged offence must be specifically proven, and the burden of proving each count lay on the prosecution.
Counsel Ozuma further submitted that the prosecution called PW2 and PW6, and it was evident that these were the two material witnesses for count 1.
PW2, Alieu Barry, made it crystal clear that he was not forced by the 1st accused to succumb to negotiation, and was not forced to agree in respect of the compensation at the meeting, counsel added.
Counsel referred the court to the evidence of PW2, PW6 and PW8, submitting further that when evidence before the court was unchallenged, whether oral or documentary or verbatim, the court had no option but to rely on it.
He further stated that it was clear from the testimony of PW2 and PW6 that the issue of the meeting was for compensation, which therefore means that the issue of compensation was not before any court in The Gambia.
 "It is, therefore, misleading for the prosecution to say the issue of land dispute compensation is pending before the Gambia Court of Appeal. It is also misleading to say the matter of PW2 and PW6 are pending before The Gambia Court of Appeal," said counsel Ozuma.
Stating that the prosecution has succeeded in proving that the 1st accused person was a public servant, he added that it failed to prove all the other elements, and that count could not be established since all the elements failed.
The case continues today.
Read Other Articles In Article (Archive)