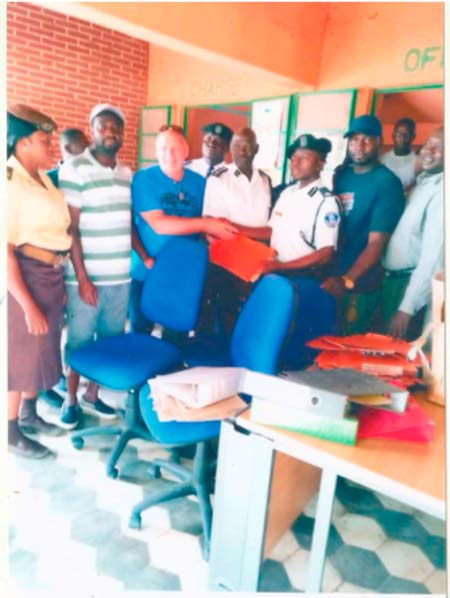 UK Enterprise and Farm 4Life, in collaboration with Star GSM Company, recently donated some office materials to Bundung Police Station, at a ceremony held at the station grounds.

Speaking after the handing over of the material, Lloyo Clewer, leader for Farm4Life, thanked the officer in-charge of Bundung Police Station for the warm welcome accorded them.
He said it was a great privilege for them to donate office equipment to the police in complementing the effort of the government.
"We are interested in the welfare of our fellow men and we would continue doing that. We are not only helping the police but also hospitals, schools as well as sport," he said.
Pa Omar Khan, Divisional Crime Officer, thanked the donors for the gesture, saying they all know government could not do it alone.
He said the material would complement government's efforts, as he thanked Star GSM director for facilitating the donated materials.
"We are very grateful and we assure the donors that the material given will be put into good use," he said.
Robot Silver, Immigration officer at the Bundung Police Station, said they are happy to receive such gifts from UK Enterprise and Farm4Life in collaboration with Star GSM.
Omar Danso, O/C Bundung Division, said the donated materials were really timely and thanked the donors for the gesture.
"We are thanking them very much for their contribution towards national development," he said.
He also said Star GSM boss is a "friend to The Gambia Police Force" because this was not the first time he has been given gesture to the police.
Read Other Articles In Article (Archive)