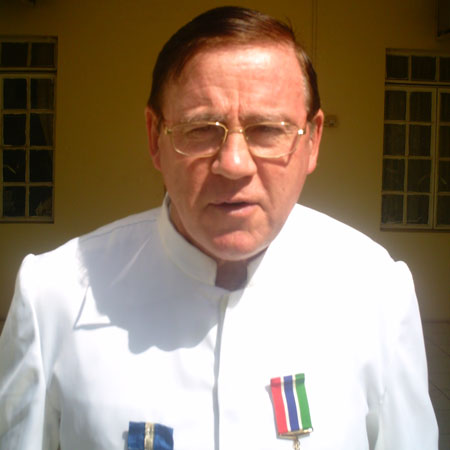 The Secretary of State for Youth and Sport, Sheriff Gomez, last Sunday inaugurated the first phase of the Father Gough Sports Foundation Complex at Manjai- Kunda.
The D2.5 million sports complex comprises a standard grass football field, dressing room for players, referees room, coaches' room, medical room and toilet facilities.
Speaking at the occasion, Secretary of State Gomez commended Father Gough and the foundation for constructing a valuable sporting facility for the youths of Manjai Kunda and it environs. He noted that Father Gough has contributed immensely towards the development of sports in The Gambia.
He described father Gough as a true friend of The Gambia and called on other Gambians in the Diaspora to emulate fathers' gesture.
He said his department would work closely with the Gough Foundation to achieve sports excellence adding that this is in line with his department's objective to assist associations promoting sports in the country.
For his part, Bye Malleh Wadda, co-ordinator of the Father Gough Sports Foundation, said that the idea of setting up a foundation was conceived by him noting that the whole idea is to maintain the good things father has done in The Gambia during his time as principal of Saint AugustineHigh School. That is why the ex- Student of the School decided to come up with the foundation.
Commenting on the future plans of the foundation Mr Wadda said they would raise more funds to put an artificial turf, modern Basketball lawn, and running track for Athletics.
ALH O. B. Conateh, ex- GFA president and CAF match commissioner, said Father Gough has a very good relationship with The Gambia, adding that he has developed so many Gambians both academically and sportingly during his time as principal at Saints. He said that Gambia will never forget Father Gough. He added that father Gough deserves any award he receives in this country.
He stated that the sports complex will go a long way in the history of Gambian sports.
For his part, Father Gough thanked Gambians for all the awards bestowed on him adding that more development will be done at the complex.
At the end of the ceremony several awards, medals and trophies were awarded to different teams.
The hall of fame award was given to Bye Malleh Wadda.
Read Other Articles In Article (Archive)