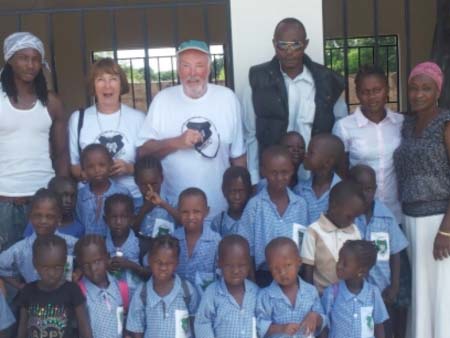 A new school called Goodchild Nursery and Lower Basic School was recently inaugurated in Brikama Medina Pipeline. 
It was built by Ingrid Goodchild and Mike Wilson from the United Kingdom.
The construction of the school, which started three years ago, was part of the couple's commitment to support local needy communities.
The building process was facilitated by the donors' representatives, Lamin Camara and Musa Camara.
Lamin Camara said the inauguration of the school is a memorable day for the community of Brikama Medina Pipeline.
He said the school will "greatly help" the students in the area who used to travel long distances to school.
Mr Camara said the sponsors work hard to raise funds in the UK to support "this meaningful development" so the community should show appreciation by sending their children to the school.
Mr Camara said the idea of building the school came through his brother, Musa Camara, who met the couple six years ago. 
The couple were interested in helping Gambian children to acquire education to become better leaders tomorrow.
For her part, Madam Ingrid Goodchild said the project started three years ago when they started to raise funds in the UK, which was a success through the support of good people and well-wishers.
She commended the Camara family and their team for channeling the funds to the project.
The British lady said their vision is for the children to acquire quality and relevant education to develop The Gambia and the rest of Africa.
Ablie Bondi, senior education officer, Region 2, said The Gambia has a robust education system that is respected for its high standards, noting that the system must continue to evolve in response to changing needs.
He said that in addition to committed teachers and sound education programmes, good school facilities must also be developed to provide a physical environment conducive for learning and creative thinking.
Mr Bondi said the new school will complement the government's efforts to ensure that every child has access to quality and relevant education within the shortest possible distant.
He applauded the UK couple for their initiative.
Read Other Articles In Article (Archive)