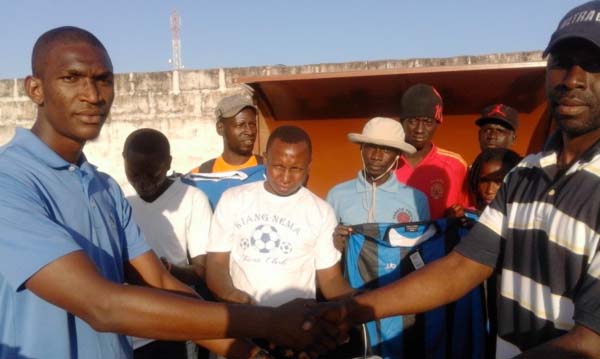 Ousman Marong, a native of Farato village based in the UK, and Karang Lang Jorbateh, president of Brikama football committee,have donated football items to Farato youth sports committee.
The items which included football jerseys, shocks and footballs were presented at a ceremony at Farato village recently.
Speaking at the presentation, president of Farato youth sports committee, Karamo Njie, thanked the donors for their "wonderful support" to the committee.
Mr Njie said the president of Brikama football committee has always said that any time that Farato sports committee needs help from them (Brikama committee), they will do whatever possible to support because Brikama and Farato are like mother and father.
He applauded them for the donation saying there cannot be proper football without the necessary items.
He said not only the committee are appreciative of the donated items but also the entire village of Farato and are praying for development of the donors.
The president of Farato committee said they stand for the development of football in the village.
Mr Njie showered commendation on Ousman Marong saying his support to Farato sports committee is a demonstration that he did not forget his village even when he was far away, in the UK.
"If we have many likes of him [Marong], then the sky is the limit for football in Farato," he said.
Salieu Jallow of Farato youth sports committee also thanked the donors for their "wonderful support".
He said donation of the items was not a surprise because since the election of the new sports committee, they have been working on lots of things to bring development to Farato.
Lamin Danso, assistant secretary of the youth sports committee, also hailed Ousman Marong and Karang Lang Jorbateh for their support.
He explained that this is not the first time the committee has been receiving donation.
He said at the opening of the ongoing tournament at the village, the chairman of Brikama youth committee donated them with footballs.Also a team from Farato Bojang Kunda has donated them with footballs.
According to Mr Danso, all the donations are because of the efforts and the hard work of the committee towards the development of football at the village.
Babucarr Badjie, adviser to Farato sports youth committee, said football was dulled in Farato but the new sports committee is running day and night to make Farato football at par with other villages and town where the game is developing.
He urged the committee to continue the good work they are doing for the development of football in Farato.
Read Other Articles In Article (Archive)