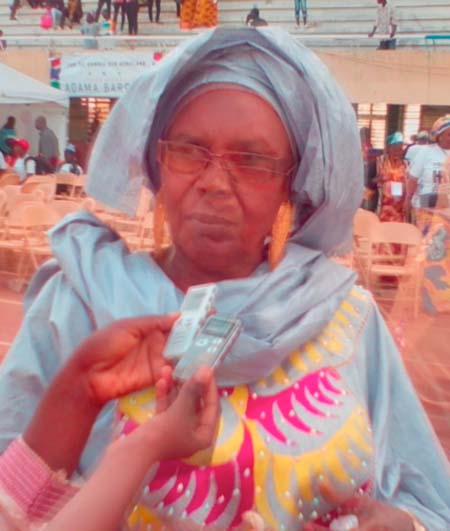 UDP Deputy Secretary General on Saturday urged women to contest in the upcoming National Assembly elections in April.

Aji Yam Secka, a veteran and one of the strongest female politicians in the country since the First Republic, was speaking to this reporter in an exclusive interview during the presidential inauguration and Gambia's 52nd independence anniversary celebration, held at the Stadium in Bakau.
She said that since 1994 to date, all they had had been lost. In the new Gambia, she is praying for the women to be more involved in the political terrain. She urged them to be one, and be supportive of each other.
"I have been in politics for more than 40 years. I have been in Sir Dawda Jawara's regime since 1974 to 1994 during the coup, and then I took a break from 1994 to 1996.
"I joined the UDP party for many years now. So I just want the women to get up and be active, and take part in politics since the National Assembly election is coming up soon.
"Let them stop clapping for men and putting on 'Ashobee' and refuse to take up positions. Let them come out and contest in the National Assembly elections, and we will support them."
She said there are decisions that can only be tackled by women if it concerns them.
Aji Yam Secka was the one heading the United Democratic Party (UDP), and running its affairs together with other executive committee members, when the party leader, Ousainou Darboe, was arrested by the former regime, tried, convicted and imprisoned along with other party supporters and loyalists.
While the party leader was going to court, she was busy coordinating and bringing all the supporters and loyalists together, in preparation for the December 1 presidential polls.
She is one of the prominent female politicians in the country that are very active in politics and taking part in political decision-making.
Read Other Articles In Article (Archive)