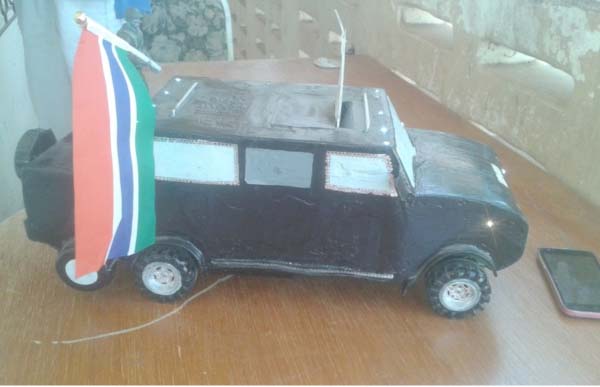 Two young Gambians have made a local replica of President Yahya Jammeh's presidential Hummer and named the vehicle 'Nyan-choo'.
Sanna Conteh, a native of Badibou Conteh-Kunda residing in Wellingara village, and Suwaibou Jammeh, a native of Niumi Jurunku living in Tallinding kunjang, made the black in colour vehicle from plastic gallon.
The car has an MP3 player and it is motorable.At the back of the car, there is a soldier standing holding the Gambian flag.
Sanna Conteh told The Point that the making of the vehicle cost them more than D2,000.
He said they made the car to give it to President Jammeh, who they call 'Kaira Mansa', because he has made The Gambia proud by the achievements he has registered in national development.
It is not only the vehicle they have made; Mr Conteh said he and his co-worker, Suwaibou Jammeh, have also made a prototype of the Arch 22 in Banjul, airplane, Kanilai ferry among others.
He said that after making the articles, their plan is to meet with President Jammeh to show their appreciation to him for his exemplary leadership which inspired them to be doing such types of work, and for his interest also in the development of Gambian youth.
Mr Conteh said they have lot of plans but no support to make them put their knowledge and skills into real practice.
With some support, he said, they can make vehicles that people can drive, adding that the government, NGOs and other institutions should extend a helping hand to them.
For Suwaibou Jammeh, their aim is to work for the economic development of The Gambia.
Mr Conteh and Jammeh can be reached on (+220) 7223157 for any support to enhance their venture.
Read Other Articles In Article (Archive)