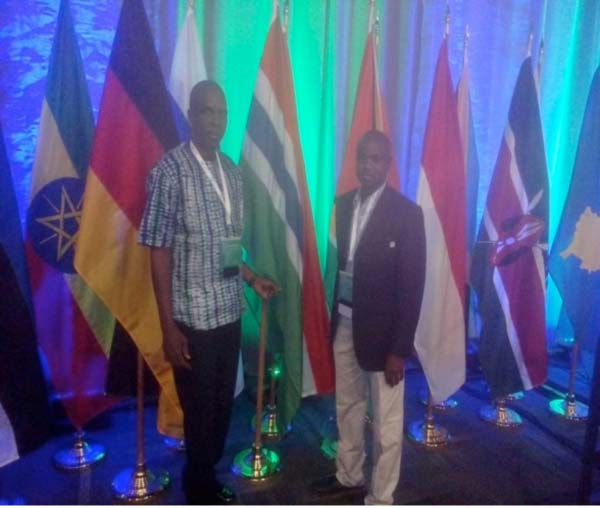 Two Gambians, Mr Ousman Sonko, Board Member and Mr Alieu Ceesay, Program Director of 4H Gambia represented The Gambia at the Global 4H bi-annual summit in Ottawa, Canada.

Held from July 11 to 15,, 2017, the summit brought together over 350 delegates from 30 countries around the world.
4H is better understood by its pledge as a global youth organisation in over 70 countries and more than a century old youth organisation.
The summit availed delegates the opportunity to share, reflect and learn from each other around the globe.
Its pledge include: "My HEAD to clearer thinking, My HEART to greater loyalty to my club, society and country, My HANDS to larger service, and My HEALTH to better living for my club, my community and my country."
The concept of the organisation is to combine these four fundamental attributes as a person and as a youth in particular in contributing to "club, community and country."
Ousman Sonko, Gambian delegate told journalists that the conference had been a platform for them to share, learn and inspire each other.
He added: "This conference has given me the opportunity to network and share Gambian experience with my colleagues and we have presented a comprehensive strategic plan which may be funded."
"I am really inspired and challenged to do more in empowering young people," he added.
He said throughout the period of the summit, prominent personalities some of whom are 4H members inspired the delegates most especially youth delegates to find pleasure in serving others and always strive to do more in national development processes.
"These were done in the form of key note addresses and showcasing of these personalities in terms of their contributions and their levels of achievement as well as the role played by 4H values in shaping their future," he explained.
According to him, the summit ended on a very high note in which delegates were highly inspired to continue contributing to the welfare and socio-economic improvements of millions of people around the world.
He declared that common issues highlighted as contributions and activities of members around the world were on food security, environmental issues, leadership and governance, livelihoods improvement and employment creation.
He added that at home front, one of the most common challenges highlighted throughout the summit most especially in Africa was the lack of government support in sub venting 4H activities.
African countries that also attended the Ottawa edition include Senegal, Ghana, Tanzania and Kenya.
In addition, Mr. Sonko presented a paper on the role of youth in national development-Gambia experience.
Read Other Articles In Article (Archive)