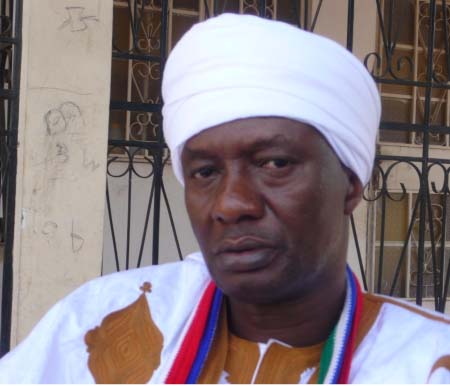 A prominent Gambian businessman and philanthropist, Momodou Turo Darboe, has presented various cheques amounting to D537,000 to various organizations and institutions in support of needy people.

The donation included cash and in-kind support to Latrikunda market, Yundum barracks, Kotu Immigration Station, a university sponsorship package and borehole construction in Brikama, among others.
The presentation, held on Thursday at Mr Darboe's residence in Churchill's Town, was an integral part of Vision Development Foundation, a charitable organization established Mr Darboe himself as part of his contribution towards the welfare of citizens.
Rohey Jadama, a recipient of university sponsorship package, said, "I feel delighted because without this scholarship, I won't be able to realize my dream of a university education.
"I am very passionate about education because I believe it is through education that I can change my life and the lives of others so I thank God that I have this scholarship. With this scholarship, my dream of being a graduate will be realised."
Saihou Fofana, public relations manager of VDF, said supporting needy people and organizations is one of the hallmarks of the foundation.
"We give out support; in fact, in the coming days we are going to do another presentation for Ramadan," he said. "During Ramadam, on a daily basis, we will be giving out food items like dates, breads, sugar and rice to the needy."
VDF is the only NGO that ventures into all aspects as far as the development of The Gambia is concerned, the public relations manager said.
"We are in schools, hospitals, community development, tertiary education sponsorships, road construction, helping police stations, farming and agriculture," he emphasized.
Mr Fofana explained that last year, the foundation expanded its support areas to include borehole drilling and infrastructural development.
"So far, we are supporting nine boreholes that are under construction. We have already given out cheques to the contractors. Already two of the boreholes, in Makumbaya and Keneba, have been completed," he said.
He pointed out that last year, VDF's operational budget was about D30 million which was all spent on the development of various communities across The Gambia.
Vision Development Foundation is an NGO and charitable organisation that was established in 2006 by Momodou Turo Darboe who is its chief executive officer. The foundation aims to complement the government's efforts in nation building.
"I will continue render my assistance to the needy people and to humanity at large," CEO of VDF said.
Read Other Articles In Article (Archive)