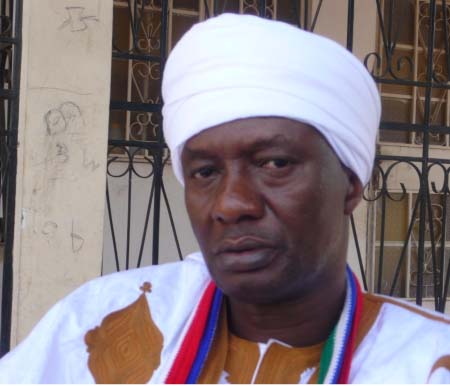 (Issue Monday June 27, 2016)
Hundreds of needy Gambians who converged at the office of the Vision Development Foundation (VDF) on a daily basis to collect their fast-breaking meal, have expressed gratitude and appreciation to the foundation's Chief Executive Officer, Modou Turo Darboe, for his benevolent gesture since the start of Ramadan.

They said "Turo Darboe is a Gambian-born philanthropist who believes in the culture of caring and sharing," especially during the holy month of Ramadan and Tobaski.
Many beneficiaries who spoke to this reporter, during the distribution of hundreds of bags of sugar at Mr Darboe's office in Churchill's Town last Friday, said The Gambia needs more Modou Turo Darboes, as he is an individual who has been helping the poor and the needy since the start of Ramadan.
As usual, some of the beneficiaries described Mr Darboe as a humanitarian, philanthropist, adding that the Almighty Allah would reward him for his benevolent gesture as he had continued to help both Muslims and non-Muslims during the month of Ramadan.
Speaking also at his office, the executive director of Tango, Ousman Yabo, said "it is only the Almighty Allah that would reward him for his benevolent gestures".
He added that if The Gambia should have many people like Turo Darboe, it would ease the suffering of most of the vulnerable people in the country as his gesture is one way of changing lives and driving away poverty.
"I believe there are Gambians who have more money than Turo Darboe, but their heart will not allow them to do so," he said.
Mr Yabo appealed to Gambian business tycoons to emulate Modou Turo Darboe's kind gesture, especially during Ramadan, which is a month of caring and sharing, showing love to each other; hence the rich should help the less privileged.
Also speaking, one Salamata Keita said that since the commencement of Ramadan, every day she would receive some gifts from Mr Darboe for the feeding of her family.
She added that the intervention by Turo Darboe in providing foodstuffs and other goods to Musims during the holy month of Ramadan is a big relief on her, without which she would have found it very difficult to maintain her daily survival.
One Kumba Baldeh also spoke at length about the difficulty she used to face in the month of Ramadan, in getting food for her family.
She said Ramadan is a month of sharing and caring, which are virtues Modou Turo Darboe is showing in helping humanity to sustain during the holy month of Ramadan.
"We are praying for his long life and good health, as well as for his family," she said. "May the Almighty Allah reward him for his generosity."
Many other speakers at the occasion praised Mr Darboe for his intervention in helping humanity.
Read Other Articles In Article (Archive)