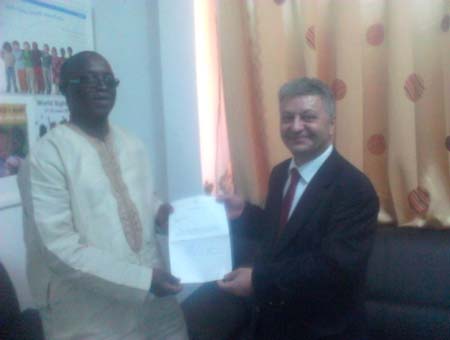 Turkish Ambassador to The Gambia on Monday paid a courtesy call on the minister of Health and Social Welfare in Banjul.
According to the Turkish diplomat, the aim of the meeting was to partner with the Ministry of Health in their quest to promoting the health sector.
The meeting was in line with the draft report on Turkey's bid to host the World Expo in 2020 in IZMIR with the theme 'New routes to a better world/health for all'.
It is said the host city for expo 2020 will be determined by the votes of the international exhibitions bureau (BIE) member states on November 27, 2013 in Paris.
According to the draft report, Turkey is also committed to organizing the first EXPO that focuses on health and is willing to bring this topic to the attention of the globe because health lies at the core of the United Nations Millennium Development Goals.
Turkey believes 'Health for all' ideal can be made possible through global cooperation and the sharing of knowledge, the report indicates.
The report further states that the theme of EXPO 2020 IZMIR presents a sustainable way to reach the 'health for all' ideal by implementing relevant sub themes for the individuals and society alike.
Turkey is arguing that it's the only largest strategic partner of the African Union among the other candidates for EXPO 2020, which is also the primary evidence that the EXPO 2020 IZMIR will be the "EXPO of Africa and Turkey".
Turkey has also launched an assistance programme to ensure there is maximum extent of participation from developing countries by giving priorities to the African countries.
In the context of this assistance programme, the Turkish government will provide 154. 8 million euros, to encourage the participation of at least 50 countries, including The Gambia.
These funds will be utilized for building joint pavilions, training their staff, and providing transportation and accommodation.
During the discussion with the minister, Turkish Ambassador Ergin Soner said Turkey would do a lot more for The Gambia as they receive the full support of the Gambia Government.
He said they are not only interested in the development project in the military but will also contribute to civilian projects mainly in the health sector.
Ambassador Soner said as part of its dedication and commitment to achieving the goals of EXPO 2020 Izmir candidacy, Turkey has initiated a 'health for all fund' to develop health projects in The Gambia, along with other 39 African countries.
He said the budgeted funds allocated $50,000 to launch a health project in The Gambia.
For his part, Omar Sey, minister of Health and Social Welfare, welcomed the gesture and assured them of his ministry's support in enhancing the health sector.
He reaffirmed their willingness to work with the Turkish embassy thus further assured him of the government's full support. 
Read Other Articles In Article (Archive)