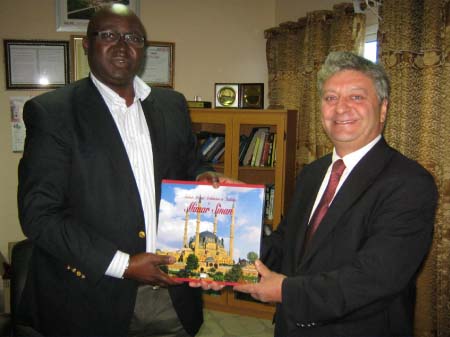 Turkey's ambassador to The Gambia, Ergin Soner, this week paid a courtesy call on the vice chancellor of the University of the Gambia (UTG), Professor Muhammadou M.O Kah. They met at his office in Faraba Bantang joined by senior staff of the UTG.
Ambassador Soner speaking during the visit said that his country's priority areas are not limited to economic cooperation, but include establishing strong partnership in areas such as culture, education, science and technology. He described his visit as symbolic and very important for both countries.
UTG vice chancellor Prof. Kah in welcoming ambassador Soner said the university was honoured to received him, and spoke of the growing relationship between the governments of The Gambia and Turkey, as manifested by the increasing number of UTG staff and graduates accepted in top Turkish universities.
He said the chancellor of the university, President Yahya Jammeh, was impressed by the performance of Gambian students in Turkish universities, and has encouraged the UTG to expand its partnership with universities in Turkey.
During his meeting with the UTG vice chancellor, ambassador Soner highlighted plans to double the number of Turkish scholarships to The Gambia from 18 to 36.
He announced that a delegation of Turkish officials will visit The Gambia this month in connection with the Turkish scholarship scheme, and they will visit the UTG for further discussion on the scheme.
The ambassador added that Turkish scholarships are not for only one discipline, but they provide quotas from all disciplines.
Ambassador Soner also spoke of plans to increase Turkish-Gambia cultural ties through the UTG.
The vice chancellor welcomed the move, and highlighted the numerous language programmes the UTGruns at the moment, such as Spanish, French and other languages.
Professor Kah also said this can include Turkish, starting with establishing a Turkish cultural centre in order to teach the Turkish language and culture.
Cultural exchanges for both students and faculty members from the UTG, and Turkish students coming to the UTG for a semester or two, as well as inviting the Turkish cultural troupes to be hosted by the UTG, are other promotional avenues, Kah pointed out.
The vice chancellor of the UTG, in his closing remarks, thanked ambassador Soner for the visit, and assured him of UTG's readiness to collaborate with Turkish universities. He also thanked the Turkish government for their support to the Gambia government, particularly in the area of higher education, research, science and technology. 
Read Other Articles In Article (Archive)