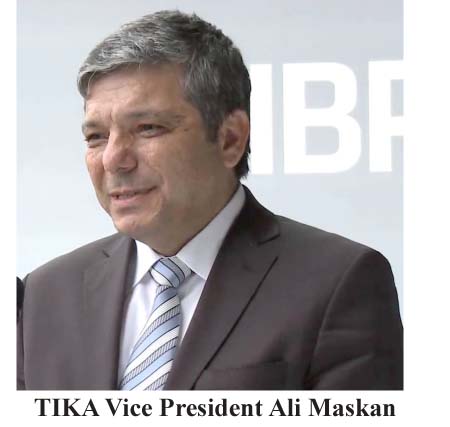 Turkey's Government through the Turkish International Cooperation and Coordination Agency (TIKA) has done a lot to support growth and development in African countries, including The Gambia.

Still on her leg in providing support in key areas of development in Africa, Turkey has set a fresh agenda on reaching out to many countries in Africa through providing support in key areas of national development, as it continues to accelerate its support drive to already friendly countries such as The Gambia.
"Turkey has been a good friend of The Gambia and we are going to expand our projects in The Gambia and Africa in the short run," TIKA Vice President Ali Maskan told African journalists who are on a working visit in Turkey.
"We have been working on intensifying our relations with African countries in areas such as agriculture, health and other sectors of importance to national development," Mr Maskan disclosed, at the TIKA centre in Ankara.
"We are planning to establish relations with more countries in Africa,'' he said.
TiKA operates through 52 offices in 50 countries, 15 of which are in Africa.
These include The Gambia, Senegal, Algeria, Ghana, Togo, Nigeria, Ethiopia, Cameroun and Nambia.
"The TiKA project has given support to these countries in areas such as agriculture, health, education, water and sanitation, administrative and civil infrastructure, production and economic infrastructure," Mr Maskan said.
In her remarks in The Gambia during the 93rd Independence anniversary celebrations of Turkey, Foreign Affairs Minister Macdouall-Gaye said: "Turkey is a true friend of The Gambia. That is why the volume of our trade is growing; that is why our leaders nurture a shared global vision and; that is why we stand together in solidarity at critical times.
"We strongly believe that through partnership and friendship, Turkey has a significant role to play in Africa's transformation."
Minister Macdouall-Gaye further outlined some "tangible" cooperation and support Turkey has rendered to The Gambia.
"In our defence and security sector, Turkey continues to offer capacity building and other forms of support to The Gambia National Army. This has contributed immensely to their ability to undertake courageous UN peacekeeping and AU peace support operations beyond our borders.
"Turkey has also been at the forefront of providing capacity building support to some of our ministries, departments and institutions.
"The Turkish International Cooperation and Coordination Agency (TIKA) also provided enormous and critical health and assistance to our people and institutions. The Agency has also facilitated the training of our diplomats, health professionals and security personnel.
"Turkey continues to also award a good number of scholarships to our students who are studying diverse disciplines. Our peoples are also getting closer through various exchange visits."
The Foreign Affairs minister also said The Gambia would remain grateful to Turkey for its demonstration of "true friendship and genuine" cooperation.
TiKA continues to share Turkey's experience, knowledge, means and resources with African countries on the basis of 'African solutions to African problems' principle, and mutual benefit.
The relations of African countries with Turkey "have in recent years gained momentum in many spheres" ranging from trade volume to political dialogue mechanisms, from educational activities to economic investments.
"On the framework of developing relations on the principles of 'equal partnerships and mutual benefit,' Turkey aspires to mould her experience in the same melting pot with the potentials of African countries," TIKA VP Maskan said.
"To that end, Turkey mobilizes, with utmost frankness and courage, all her means everywhere needed."
TiKA today, he said further, "is active in more than 100 countries where needed", from Africa to Latin America, in a context where Turkish official development assistance exceeded US$3.6 billion in 2014 in contrast to US$73 million in 2002.
During the working visit to Turkey, several areas where visited by the crew of journalists from Africa, including Ethiopia, Nigeria and The Gambia.
Read Other Articles In Article (Archive)