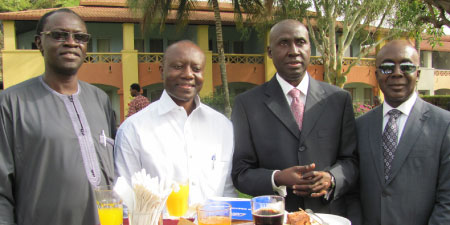 Trust Bank, The Gambia's leading financial intermediary, has registered another credible performance for the 2011 financial year.
The bank was able to post impressive profit after tax of over D110 million (D110,075,000), 58% up from last year's net profit of D69,854,000, whilst its gross profit shot up by 46% to over D188 million from its 2010 of D129 million.
"A profit after tax figure of One Hundred and Ten Million Dalasis was posted as against the profit of sixty Nine million dalasis posted the previous year, an impressive 57.5 per cent increase accomplished by Management and staff," said Trust Bank Board Chairman Ken Ofori-Atta while delivering his statement on the bank's performance in the year 2011.
Compared to the year 2010, the bank's total assets also grew by 19 per cent, investment grew by 40 per cent while deposits grew by 20 per cent.
"Trust Bank's market share in total deposits at 28 per cent is 200 bases points (that is 2 %) higher than reported in the previous year," Mr. Ofori-Atta remarked.
Due to effective recovery measures and appropriate risk management practices adopted by the management, the non-performing loan ratio improved to 9.57 per cent as against 11 per cent from the year before, he also disclosed, adding: "Though lending reduced by 16 per cent as a result of management's concern about asset quality, it still accounted for 23 per cent of credits extended in the industry."
The performance in 2011 serves as a testament to the robust infrastructure and investment in personnel and technology that have been instituted by management which should lead to sustained growth in profits thereby maximizing shareholder value into the future.
Chairman Ofori-Atta again: "Your bank strives to be ahead in all spheres in our industry with the ultimate goal of enhancing value for all its stakeholders."
"It is this culture of excellence that has won the Bank numerous accolades from various institutions both within The Gambia and abroad.
"We remain the Gambia Chamber of Commerce and industry 'Bank of the Year' and we also won the prestigious award from the Banker Magazine for 'Bank of the Year in The Gambia 2011'.
"The Bank's solemn pledge is to diligently maintain these standards into the future."
Mr. Ofori-Atta attributed the bank's successes to every 'Trust Banker' for the outstanding contribution towards ensuring institutional and operational excellence and exemplary execution. "Congratulations for your hard work," he noted.
Based on its impressive performance, the bank's board therefore recommended a final dividend of 20 bututs per share on 200 million shares bringing total dividends paid this year to 40 bututs per share.
"This translates to 133 bututs per share in the preceding year," Chairman Atta said, adding that the Board's decision also took cognizance of the Central Bank requirement to transfer 25 per cent of profits to reserves.
Trust Bank has registered also numerous developments in all facets of its operations, especially in its products and services to customers, technology and human resource.
The bank's Managing Director Pa Macoumba Njie also stated: "Your Bank maintained a positive outlook and strengthened its business with the introduction and re-engineering of products and offerings for its clientele. Our efforts were rewarded with a substantial growth in all key indicators from profitability, asset size and quality, investments, deposits base and capital and reserves as can be seen from our results this year."
"In the area of development, in reaffirming its commitment to the customer, your Bank has taken several initiatives to expand the bouquet of choices for its customers," said Chairman Atta again, adding that over the last few years, a host of products and services such as internet banking, mobile banking, ATM services, bill payment services amongst many others have been launched.
These products facilitate the purchase of mobile phone top-ups, balance enquiry, fund transfers, statement requests, cheque book request and many other services, he noted, saying new lines of business will continue to be identified in order to further improve "our processes and accelerate the Bank's strategy to deepen financial inclusion".
In information technology, the bank has implemented a secure robust and state-of-the-art centralized infrastructure setup providing uninterrupted continuity for the bank's operations, the TBL managing director reassured the bank's clientele and banking population.
Chairman Atta and MD Macoumba Njie applauded the Bank's shareholders, management and staff and above all its esteemed customers and clientele for their unalloyed support and patronage of the bank, which has continued to set the pace of banking in the Smiling Coast of Africa, a land fast becoming the hub of banking in the sub-region.
Read Other Articles In Article (Archive)