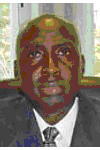 Amidst Promises of More Competent Banking
Trust Bank Gambia Limited, one of the leading banks in the country, yesterday held its 10th Annual General Meeting at the Kairaba Beach Hotel.
The highlight of the meeting, which brought together Directors and stakeholders of the bank, among others, was the receiving and adoption of the Annual Report and Accounts for the year ended 31st December 2007.
Also on the agenda of the meeting was the declaration of dividends; re-election of Board of Directors namely Messrs. Mustapha Njie, Tumbul Danso and Bai Matarr Drammeh; the approval of remuneration for the Directors and the appointment of Auditors for the bank.
Presenting the Annual Report and Financial statements of the bank for the year ended 31st December 2007, Mr. Ken Ofori-Atta, Chairman of the Trust Bank Board of Directors, highlighted the numerous developments undertaken by the bank since joining the already bustling financial market of The Gambia.
According to Mr. Ofori-Atta, despite the low profitability this year, Trust bank has registered a 14% increase over the previous year, becoming the biggest bank in the country in terms of total balance sheet size.
He added that with the opening of a new branch in Bakoteh, which brings the bank's total outlets to 12, Trust bank is further consolidating its position as the bank with the largest network of branches in The Gambia.
"In 2008, we hope to bring banking to the door step of all Gambians by opening up more branches, installing multiple ATMs and point-of-sale machines," he said.
Commenting on the bank's Human Resources Development, the Trust bank chair noted that the bank recognises and rewards the invaluable contribution of its workforce towards its success. "As a result, the training budget takes into account the need to train our staff and equip them with the required knowledge and ability to place the bank in a leading position in the currently very competitive and dynamic industry," he posited.
On Corporate Social Responsibility, Mr. Ofori-Atta underscored the tremendous contribution played by Trust Bank in the three major sectors of the socio-economic development of The Gambia namely Health, Education and Sports.
For his part, Mr. Pa Macoumba Njie, Managing Director Trust Bank Gambia Limited, intimated that Trust Bank has taken up to the challenge of the increasing number of banks in the country and that with the introduction of its Internet banking service, the bank is at a very advanced stage of developing more value added products.
According to Trust bank MD, Trust bank continues to actively participate in promoting social development, especially in the areas of health, sports and education.
"The outlook for 2008 is promising. The bank is aware that we are in an industry where customers have a choice and therefore, customer satisfaction and increasing shareholder value is ever more important," he added.    
Read Other Articles In Article (Archive)