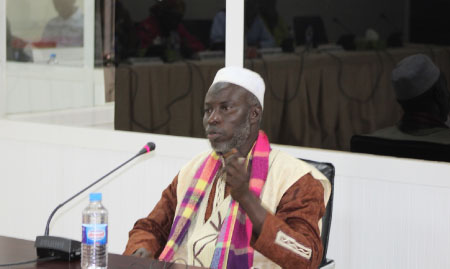 Pa Modou Cham
Omar Fofana, a resident of Sukuta and a biological brother to Imam Ba Kawsu Fofana, yesterday testified before the TRRC, accusing the leaders of The Gambia Supreme Islamic Council (SIC) as driving tools to former President Yahya Jammeh.
He testified that Ba Kawsu is an Imam for two mosques, has an Islamic school and many followers around the world.
The witness said that the SIC had a fight with Ba Kawsu and that was the reason why he migrated from the country. He added that the problem emanated from the sighting of the moon.
"Ba Kawsu told them not everybody can pray the same day but SIC wants the whole world to pray the same day, which is impossible."
He testified that the SIC once invited Ba Kawsu to their headquarters in 2011 for a meeting, which he (Omar) attended. He said upon their arrival, they found that they invited paramilitaries and Muhammad Lamin Touray called many people from his home town in Gunjur to witness the meeting.
"Ebrima Jarju, Cherno Darboe, Abdoulie Fatty and other council members were present and the meeting was chaired by Cherno Darboe."
He said Darboe was the one who first spoke and said Ba Kawsu has made their job difficult. He said contrary to whatever they said and that the people will follow him instead of them (SIC).
He, however, indicated that Ebrima Jarju who was close to Jammeh also highlighted that Ba Kawsu disappointed them because when he preached in a conference at Somita , one Jola man removed a cutlass and wanted to attack him (Kawsu). He had said Jola's are not knowledgeable.
He testified the last person to speak was Abdoulie Fatty, who said Ba Kawsu had made their work difficult, saying even at Gamos, was it only Ba Kawsu who presided over it and people listen to Kawsu for Eid prayers.
The witness alleged that Fatty said Ba Kawsu insulted Jammeh and the Jola ethnicity by telling them to leave dancing and pray to Allah. He went on to testify that Fatty indicated that Jammeh wanted the whole country to pray on the same day and so if Makka sighted the moon, we should all pray.
"Ba Kawsu told them he cannot be the same way with them because he will follow what he learnt and believed. He also told them that they cannot change him, regardless of the paramilitaries and NIA present during the meeting."
Mr. Fofana reiterated that the SIC plan was to intimidate Ba Kawsu because they started the meeting from the morning till 4 p.m. but they were not successful.
"Imam fatty made a threatening word that if Ba Kawsu wasn't careful, they will do something bad to him. Kawsu asked him who was he to tell him that, and Fatty replied that he (Kawsu) would know who he was."
Witness clarified that Ba Kawsu was sent a letter, with copies to IGP and GRTS to ban him from all religious activities, including preaching, teaching or even conducting conferences.
"Imam Fatty was full of hypocrisy and he was not even a Gambian. They follow Jammeh's orders and that is still ongoing. The country elders have discussed to remove them from the council but they refused to go out."
In a meeting organised by SIC at State House with Jammeh, Mr. Fofana said Jammeh told Ba Kawsu that his knowledge was of Satan.
"Jammeh told the council members and the police to leave Ba Kawsu with him and anything he did, will be dealt with accordingly. He told Ba Kawsu that even his shoe was closer to Allah than him. He told him that if he was not careful, he would lock Ba Kawsu for 20 years but our uncle pleaded with him, who he listened to."
The witness disclosed that Fatty once confided in him that an Islamic scholar, Kebou Cham should have been the first person to face a ban from preaching because he was condemning Gamos.
On 18 May 2012, he said Fatty made lot of hate-preaches to make Jammeh get angry with Ba Kawsu, indicating that Ba Kawsu was informed that the NIA officers would arrest him.
"Ba Kawsu was arrested with his student Adama Saidy at Brikama Sillah Kunda by the NIA and taken to 'Bamba-Dinka'. He was beaten and we wanted to take him to the hospital but he declined . We went for a Sheriff who prayed for Ba Kawsu and was eventually released on bail with D50, 000 after 9 days but his finger was broken."
He said on 15 August 2012, Ba Kawsu was again to be arrested by the director of NIA, Yankuba Badjie, but he disappeared from their sight. He added that it was the last day and they never set their eyes on him till he came recently in the new government, as he went into exile in Casamance, Senegal.
Omar said he was also arrested and taken to Bamba-Dinka but they later decided to free him and warned him not to talk with any journalist.
He said plans were made to bring Ba Kawsu back to country and kill him but that never materialised.
Read Other Articles In Article (Archive)