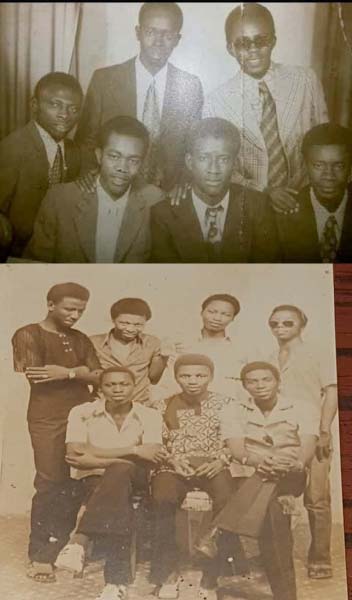 To know Imam Pa Momodou Njie is to cherish the core values of honesty, humility and honour ( 3 H's) - To know Imam Pa Njie is to exhibit the leadership qualities of conscience,character, competence,conviction,commitment and courage, ( 6 C's). To know Imam Pa Momodou Njie is to live the temporal life and to life the spiritual life -

To know Imam Pa Momodou Njie is to demonstrate respect, gratitude and tolerance.
To know Imam Pa Momodou Njie is have Islam ,Emanuel- and Ihsan( 3 I's )
Imam Pa Momodou Njie was born to Alhaji Ebou Njie who hailed from Daru Medina and Ajaratou Sey from Banjul
Imam Pa Njie schooled in The Gambia at Muhammadan & Crab Island School respectively .
He started his Islamic Education and Quranic studies at the Dara Arab founded by Oustass Imam Tafsir Gaye at Muhammadan School at the time when the late and leading educationist Mrs Joanne Mbye was Principal of Muhammedan School.
He always referred to Imam Tafsir Gaye and Imam Ratib Cherno Alieu Mass Kah as his Professors ( Seringe & Wasila) as they significantly moulded and impacted his religious knowledge of Islam.
As a youth growing in Banjul, he was a member of Oldham Vous and served as its President for several years and hence given the title PREZY . As can be gleaned from the photograph this was the Vous that produced the most Imam's.
Imam Pa Njie and his compatriots traveled to Syria to attend "Fatt al Islamic "( Islamic Institute of Syria in Damascus, Syria and then to the University of Damascus , Syria and to Al Asar University in Egypt .These compatriots returned to The Gambia to become eminent and dignified religious scholars and Imams.
Upon his return to The Gambia Imam Pa Momodou Njie joined the Ministry of External Affairs at the time when Hon Lamin Kiti Jabang and the late and revered Ambassador Ebou Momar Taal were Minister and Permanent Secretary respectively- He always referred to them as BOSS.
Indeed to Imam Pa - he humbled himself before every human being regardless of their station in life.
Please remember Imam Pa Momodou Njie and Ajaratou Haddy Jagne in your prayers
Read Other Articles In Article (Archive)