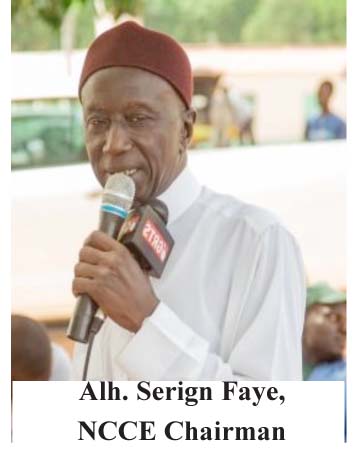 (Thursday 12th March 2020 Issue)
Ansumana Ceesay, senior programme officer at the National Council for Civic Education (NCCE) has described the current tribal tension in the country as the biggest threat to our peace and stability.

Mr. Ceesay made these remarks at Jasobo village in Kiang East District, Lower River Region during a sensitisation meeting at the community.
The Council is currently on a massive awareness raising campaign dubbed "Civic Dialogue on Constitutional Democracy, rule of Law and Peace Building".
The outreach covered twenty-four (24) communities in the Central River, Lower River and North Bank regions.
He added that religious and political differences are also major threats to our national security, saying they need to be addressed immediately which his office is doing.
He pointed out that we are all equal in the eyes of the law, calling on all to respect each other as we are all Gambians.
He highlighted that politics come and go but as citizens we live together forever, and therefore we must not allow politics to divide us.
Ceesay also said that in law what is in conflict with the constitution is null and void.
Yusupha Bojang, programme manager, NCCE said the engagements are aimed at lessening the current political tension marred with misconceptions and misrepresentations of democracy resulting to disregard for the Rule of Law, slander, provocations and antagonism, which has the potentials to cause chaos in the country if not addressed head-on.
Mr. Bojang, stated that a similar activity was done in November 2019 in the URR and due to its success and significance in our present realities, they deemed it prudent to scale it up to cover other regions.
This he believes will greatly enhance citizens' understanding and appreciation of the constitution as the supreme law of the country as well as improve understanding of democratic governance and embrace peace building initiatives as enshrined in the National Development Plan.
Junkung Saidy, senior civic education officer at NCCE described elections as the lifeblood of democracy, noting that it is citizens' duty to hold authorities accountable.
He added the democracy guarantees the right to political participation, association, assembly, life, freedom of speech and expression.
Mr. Saidy said development can only take place when there is peace, adding that it is citizen's duty to participate in the development of the nation.
Ansumana Yabo also a senior civic education officer at NCCE called on citizens to nurture the peace and stability we are known for as a country.
According to him, there cannot be peace if citizens do not respect the law, saying if we abuse the law, it results in violence.
He urged citizens to put the country first and work towards its development.
Ebrima Colley a native of Jasobo village said they have been paying taxes since the inception of the village but have never benefited from any form of development from government, their area council or any authority.
Read Other Articles In Article (Archive)