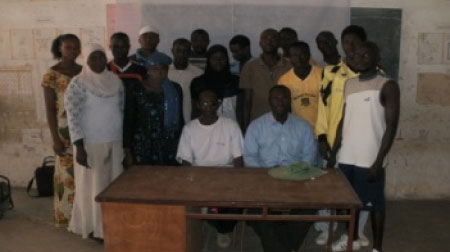 The Gambia Cricket Association conducted an Effective Meetings Module CAP Course, on March 32 in one of the cricket regions of the country - Brikama.
This is the Second CAP Course, after the CAP Course on Community Cricket, Forming a Club and Organizing a Tournament, conducted in January this year as per ICC/ACA Calendar of Activity.
The course was presented with module delivery of Face to Face Practical Delivery, of open discussion with every participant, with core knowledge and skill areas on Effective Meetings. Fifteen participants took part in the course.
This course came at the right time for the participants, who are also starting a cricket club in their various schools. The region will be forming an association which will register with the federation, thereby changing the name of The Gambia Cricket Association, to The Gambia Cricket Federation, which will be approved and adopted by the General Council at this year's AGM in May 2012, which should coincide with the MSCO's visit to The Gambia for the Audit Visit.
The course presenter was Mr. Johnny Gomez, President of the Association, assisted by Mr Wilfred Riley, the Administrative Secretary, and Mr. Sheriff Jallow, the Brikama Regional Coordinator.
The Region is organizing a fund -raising activity to prepare for the Regions Three Leagues, Secondary Schools Leagues (Male and Female), and Primary Schools League.
Read Other Articles In Article (Archive)