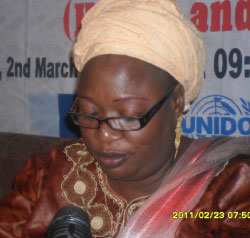 The permanent secretary of the Ministry of Trade, Regional Integration and Employment on Wednesday highlighted the importance of Certification of Food Safety Management Systems at a one-day seminar held at the Paradise Suites Hotel in Kololi.
In her opening address, PS Naffie Barry said certification "is a very important issue in our drive to be more competitive".
The procedure by which an independent and competent third party certifies that a product, process or service conforms to specified requirements is what is referred to as certification.
Even though certification is a voluntary affair, PS Barry says market forces compel enterprises all over the world to have certification of their products, processes and services to stay in competition.
"Like inspection and testing, certification is an integral component of the vital building blocks needed to construct an efficient quality infrastructure and as key stakeholders, you are inevitably implicated in this process of building and benefiting from an efficient quality infrastructure," PS Barry said.
"You cannot afford to be left behind; this is why you need to take full advantage of the opportunity presented by this information-sharing on Certification."
Mrs Barrie added that government is geared towards the establishment of the Gambia Standards Bureau and the National Measurement System as part of the national quality infrastructure. 
The Gambia government is committed to upgrading the national quality infrastructure, she said, while thanking the EU, and the UN agencies such as UNIDO and FAO, for funding the West African Quality Program. (WAQP)
For his part, the coordinator of the WAQP, Joseph Ndenn, said: "The WAQP is a regional technical assistance programme funded by EU, executed by UNIDO and implemented by ECOWAS in the ECOWAS member countries and Mauritania."
The WAQP is established to strengthen the competiveness of enterprises and to ensure compliance with trade and regulations with special focus on WTO, TBT and PSP agreements.
Mr Ndenn said the WAQP made an attempt in 2009 to start intervening in Certification by engaging potential candidate enterprises interested in ISO certification. 
The programme's interventions are designed to support the upgrading of national and regional quality infrastructures, thus the basic components of this national quality infrastructure are standards, metrology inspection, testing certification and accreditation, he says.
The seminar on certification for food Safety Management Systems, he explained, was part of the activities being organised in certification alongside the Gap Analysis of the enterprises.
"We believe that the seminar will contribute to further raising the awareness of the various stakeholders not only the benefits and costs of certification to HACCP and ISO 22,000 but also the requirements," he said.
The participants at the seminar were drawn from the manufacturing and trading enterprises, food business, government regulatory bodies and consumer groups.
Read Other Articles In Article (Archive)