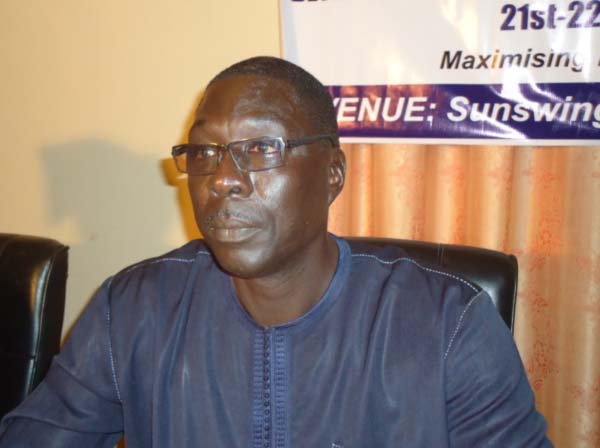 (Thursday September 01, 2016 Issue)

Barely two weeks before the Muslim feast of Tobaski, the Ministry of Trade, Industry, Regional Integration and Employment (MoTIE) Monday held a meeting with stakeholders in the livestock sector to address the issues of availability and affordability of rams in the market for buyers.

The stakeholders in the meeting included the Gambia Livestock Dealers Association, the Gambia Livestock Marketing Agency, the security forces and other stakeholders in the livestock sector.
The purpose of the consultative meeting was to meet and brainstorm on common issues of interest affecting the free movement of dealers and their animals into the country, as well as the pricing of animals and meat ahead of the Tobaski feast.
Speaking at the forum, the Trade Minister, Abdou Jobe, said the meeting is an annual consultation with livestock dealers to see how as a government they could make rams available, accessible and affordable during the Tobaski season.
The objective of the forum is to make sure that as a government they facilitate the availability and fair sale of rams during the Tobaski feast, he said.
Also speaking at the meeting was the Director of Technical and Field Services at the Gambia Livestock Marketing Agency (GLMA), Ebrima Cham, who spoke on the issues surrounding the betterment of livestock and Tobaski ram sales, in particular.
He called for collective effort to ensure smooth movement of dealers and livestock into the country.
According to Mr Cham, this type of consultative meeting is a step in the right direction in the sense that it involves all the players coming together, to discuss and identify the causes together and come up with solutions to address some of the difficulties that affect the free flow of animals into the country.
The deputy Chief Executive Officer of KMC, Samba Gagigo, who also spoke at the meeting, said ram dealers would be allocated special areas for sale of their animals, such as around the Independence Stadium, GTMI and the Social Security Building in the Kanifing Municipality as well as the Central Abattoir in Abuko.
On security, Commissioner Badjie of the Gambia Police Force assured all of a safe and secure business environment.
The Director of Ferry Services, Jerry Jammeh, spoke on the need for collaborative effort for an effective and efficient transportation of livestock during the period leading to the feast.
The Gambia Livestock Owners Association president, Ebrima O. Jallow, said the meeting was very important, as many issues have been discussed to facilitate the movement of dealers and their animals into the country.
Mr Jallow revealed that they now have district livestock owners, regional and national, adding that they are doing their best to see that they involve people in sheep and animals fattening, as well as in milk production.
Read Other Articles In Article (Archive)