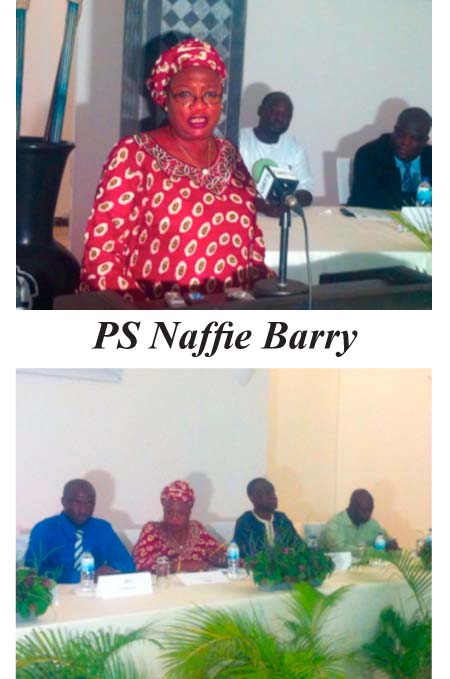 The Ministry of Trade, Industry, Regional Integration and Employment (MoTIE) yesterday launched the Gambia Labour Force Survey (LFS) and the Gambia Labour Market Information System report (LMIS), which is a web-based system.
The report was launched in collaboration with the Gambia Bureau of Statistics (GBoS) with the support of the United Nations Development Programme.
Officials said the LFS was commissioned in 2012 to provide The Gambia government and other relevant stakeholders with labour market and employment information. 
It also contained relevant indicators for informed policy formulation, employment promotion and socio-economic development in general.
Nyakassi Sanyang, the Statistician General, said the statistics bureau was contracted to conduct the survey by Gamjobs and the Ministry of Trade.
He said a labour force survey is widely used to collect and disseminate labour statistics locally and internationally.
Mr Sanyang said the study tools and analytical methods used were based on International Labour Organisation (ILO) prototypes and standards designed to facilitate comparison within and across countries and regions.
The Statistician General said the survey is part of Gambia's long term Vision 2020 which seeks "a well-educated, trained, skilled, healthy, self-reliant and enterprising population to facilitate the transformation of The Gambia".
The permanent secretary of MoTIE, Naffie Barry, said the establishment of the labour force survey is a priority to The Gambia government because such data supports a government in making informed policy formulation.
"The government continues to place emphasis on employment creation as the central objective of its economic and social policy for sustainable poverty alleviation," Madam Barry said.
She explained that her ministry has formulated a national action plan to address the underemployment problems, especially within youth and women.
Also, they are working to enhance reliable market information and the labour force to support the country's development process.
Representatives from the UNPD and ILO, Abdou Touray and Dennis Zulu, respectively, expressed optimism that the report would be helpful to researchers, employment seekers and policymakers.
Read Other Articles In Article (Archive)