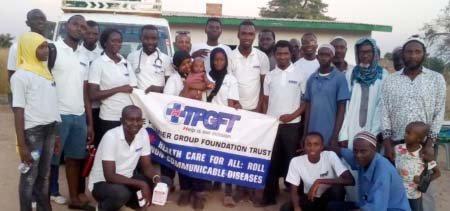 The Premier Group Foundation Trust (TPGFT), last Saturday rendered free medical services to over 600 people in Central River Region during an activity held in Choya village in Naimina West District.

The initiative is part of TPGFT programme of activities which include conducting health outreach every four months to less privilege people and hard to reach communities across the country.
The health outreach is usually an educational and interactive day-long event with the aim of promoting health, educating, empowering and inspiring people in all aspects of health with special emphasis on Hypertension and Diabetes.
Organised under the theme: health care for all; roll back non communicable diseases, the outreach outpatient clinic was spearheaded by the foundation young university trained nurses, student nurses, doctors, teachers, businessmen and other professions.
Sankung Minteh, CEO and founder of TPGFT, said the association aims to contribute its quota to national development since health is key and fundamental to human with everyone not having easy access to health facilities and services.
He revealed that their next outreach will be in URR as they plan to cover all regions of the country.
According to him, the outreaches are exclusively funded by members of the association who each contribute a certain amount of money monthly.
He described the outreach as very important to them because Hypertension and Diabetes are really affecting many people in most communities.
Gallajo Jallow, representative of the Chief of Naimina West said the importance of the outreach in their community cannot be over emphasized. He said access to health care services and facilities within the district is always difficult on them and expensive.
Dr. David Demba expressed joy with the number of people who came for screening as well as knowing their medical status.
He added that majority of illness found during the outreach were communicable and non-communicable diseases.
He highlighted that as medical personnel they should not always expect people to meet them but rather sometimes go and meet people in their communities.
Jankey Baba, a beneficiary expressed delight over the treatment saying the outreach is important them.
Read Other Articles In Article (Archive)