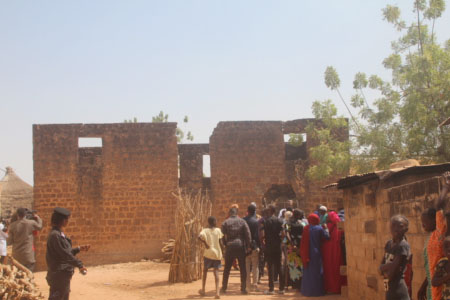 The minister of Tourism and Culture, Hamat N.K. Bah has ordered the restoration of two important places that are part of the history of the country.

The two places are the Tambasangsang Fort, built in Tumana by the former colonial masters and also the Kristikunda Old Settlement, a community established by Anglican Church in Kantora, both in Upper River Region.
These two places were among the sites visited by Minister Bah alongside his entourage on the ongoing tourism facilities tour across the country on Friday 7 February 2020.
The two places have been abandoned for a very long time, making the buildings dilapidated and losing their originality.
Minister Bah expressed that some tourists are interested in seeing them if they are restored and the Gambia Tourism Board working with the National Centre for Arts and Culture "can use it as part of their marketing products, as partnership matter for the two departments."
"Krisikunda Old Settlement and Tambasangsang Fort also linked with our past great men who had fought and worked for independence in this country, they suffered immensely for The Gambia in the likes of John Jaw and Hassan Musa among others. They were very modesty and never lived for money but only worked for national development," he noted.
Hassoum Ceesay, director general of National Center for Arts and Culture, described Tambasangsang Fort which was built in Tumana as a historic site in the Upper River Region. He said it is an old trading station which is like the hub for the groundnut trade. "The area is a riverside settlement so when the river transportation declined, the river trading station also declined and with the advent of road transport in the 60s. But the Fort used to be another hub for the groundnut trade built during the era of groundnut boom and it was over 100 years old."
Meanwhile, the Kristikunda Old Settlement built in Kantora was an experimental site of the Anglican Church to establish a Christian community in the Upper River Region as the Christians worked in Fulladu. The Anglican Church also wanted to see if they could use the place as base to educate and gain converts to Christianity. "So Kristikunda was established as a self contained community in 1942 and made available school, farm, animal husbandry, and poultry among other things."
DG Hassoum explained further that when the Anglican Church realised that they were unable to convince the Fulani to convert and also not bringing their children to study in the school, except children from Bathurst (Banjul) whose parents thought their children were stubborn, they closed down the place in 1948: "Due to the fact that when the experiment trail failed, the Anglican Church in England refused to continue the subvention while colonial government also refused to assist them."
Later, he disclosed, "the school was brought back in 1950s and so many of our pioneer teachers taught here in the likes of Rev. J.C. Faye, Hassan Musa Camara, John Jaw and some students of Krisikunda became very influential. He cited Professor Njega Senghore, Alhaji M.C. Cham as products of the school. He added that the school "had trained a lot of people in Banjul."
Read Other Articles In Article (Archive)