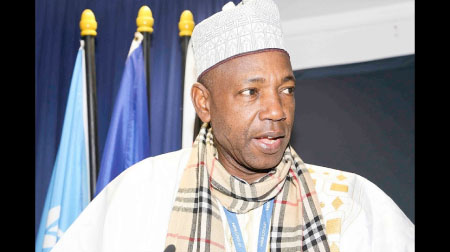 The minister of Tourism and Culture has expressed his utmost satisfaction about the exceptional service and standard of Sindola Safari Lodge and AbCa's Lodge Creek both located in West Coast Region.

Minister Hamat N.K. Bah was joined by director generals of GTHI, GTBoard, NCAC among others on his familirisation tour. His entourage was taken on a conducted tour around the two lodges where everyone was fascinated by the facilities.
Sindola Safari Lodge and AbCa's Lodge Creek were well taken care of in terms of service, standard and regular maintenance of the two places.
Minister Bah has described the two places as "the right products we are looking for" and "try to replicate throughout the country."
He emphasised that the properties were well managed and "they are to the best of standard nationally and internationally," and these are what they want to promote to improve the quality of the available products.
"These are what we want to promote; to improve the quality of our products so that we can sell better and make better money for reinvestment for the proprietors, we are extremely impressed and pleased," Minister Bah affirmed.
About Sindola Safari Lodge
Sindola Safari Lodge is sited amidst numerous palm trees, flowery bushes, baobab trees and bougainvillea. The lodge boasts of a wide array of services and features 36 delightful standard rooms and 4 luxury two-room suites, integrated into authentic African roundhouses with grass roofs and fitted with latest facilities. The heart of Sindola Safari Lodge is formed by a large natural fish pond which guest can admire directly from the lodge's main restaurant.
About AbCa's Creek Lodge
AbCa's Creek Lodge is a nice place to stay for everybody. It is located amidst a natural environment for people who would like to experience the traditional way of living and also see the amazing nature of the inlands. The lodge offers an excellent setting in a beautiful nature and the rooms come with basic services. At AbCa's Creek Lodge, they do all kinds of parties in the beautiful lodge while you can enjoy boat trip mangrove, bike tour in the surrounding.
Read Other Articles In Article (Archive)