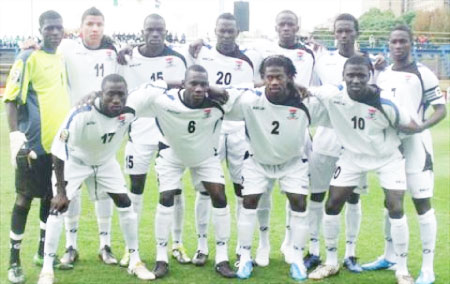 Gambia's junior sides have been handed tough draws in the next qualifiers of the CAF junior champions and World Cup, but have byes directly into the second round.  
The Gambia's Under-20, whobowed out of the last African Youth Championships in South Africa in April at the group stages, have been drawn against the winner between the first round clashes featuringMauritaniaandMorocco.
The winner between both legs will take on The Gambia U-20 in the second round of the qualifiers in July and August.
If The Gambia get past Mauritania or Morocco, they will play either Uganda or Mozambique in the next knockout round in September and October.
The winner of that match goes through to the 2013 finals in Algeria, from which the African sides to progress to the next Fifa U-20 World Cup in Turkey will be decided.
At Under-17 level, The Gambia U-17 team has been paired with Ghana in the qualifiers for the 10th African U-17 Championship 2013 Africa U-17 Championship to be hosted by Morocco.
The Baby Scorpions enter the qualifying campaign in the second round with Gambia hosting the first leg on the weekend of 12-14 October 2012. The return clash in Accra will be played on the weekend of 26-28 October.
The Gambia, which has a history with Ghana in the underage competition, ended the Black Starlets' hopes of a place at the 2009 tournament hosted by Algeria with Gambia crowned champions.
In 2005 The Gambia beat Ghana 2-1 to clinch the title for the first time when the championship was hosted in Banjul.
The winner between this tie will meet South Africa or Zambia in the final round of the qualifiers slated for the weekend of 16-18 November and end of November.
The Gambia U-17, the country's most successful national team, had a woeful performance in January last year after returning home to Banjul from Kigali, Rwanda, with a disastrous result.
Gambia are two-time African U-17 Champions after winning the trophy in 2005 and 2009.
The next Fifa World Cup at Under-17 level will be played in the United Arab Emirates at the end of 2013. 
With the current situation facing Gambian football, The Gambia's participation at these continental championships still remains unclear as the country might face a possible FIFA sanction if the state of affairs is not redressed, according to a FIFA warning to The Gambia.
Read Other Articles In Article (Archive)