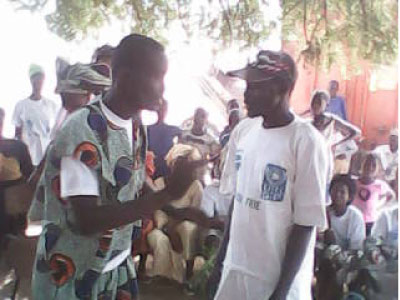 Totokulung Bana Kafo, a traditional communicator group with financial support from GEF, recently concluded a three-day sensitization campaign against bush fires and other illegal activities in the forest.
The programme, designed to target Wassu, Karantaba and Fullabantang 'lumos' (rural weekly markets) in the Central River Region, aimed at raising awareness on the subject matter, according to officials.
The campaign took the form of speeches, drama presentations, fire demonstrations and match-past across the targeted lumos led by traditional drumming, singing and chanting: "NO BUSH FIRE", demonstrating the negative impact of bush fires.
Lamin Keita, alias Taka Tity, a traditional communicator and the director of Totokulung bana kafo, underscored the significance of protecting the forest and its resources.
He added that the forest is a bank for those who value it thus the need to preserve and conserve the forest is paramount.
According to him, his organization is an advocacy group established a decade ago and has been operating in the CRR region working with a lot of development partners including UNFPA, Women's Bureau, Forestry, Health, UNDP, and Gamcotrap.
Noting that his group has a total membership of 176 including singers, drummers, theatre team and traditional historians, Mr Keita commended UNDP for providing the strategic support to be able to execute these programmes and urged the participants to make best use of the knowledge and skills learnt during the campaigns in Wassu, Karantaba and Fullabantang lumos respectively, while warning the people of the region to exercise extra caution to prevent bush fires.
Speaking at various meetings held in Wassu, Karantaba and Fullabantang lumos in the Central River Region, Mr Keita opined that the peak seasons for bush fires are November to December, when farmers are busy with harvesting, and May to June, when the dominant farming activity is phasing out.
Speaking at the various meetings held, Alhagie Sanyang, Regional Forestry Officer for CRR north, spoke at length on the importance of protecting the forest from all forms of destruction, particularly bush fires.
To him, most bush fire incidents occur outside the community forest and forest parks but without timely intervention the bush fires will go on the rampage in the bush.
Bushfires do not only affect agriculture but they also contribute to environmental degradation, which has negative impact on the farmland, he noted.
Some community forests and forest parks are being successfully managed, he said, adding that their protection from annual bushfires has brought some improvement in bio-diversity.
To him, forest serves as bank for people who value it, and that plans are in the offing to ensure that resources are conserved for their availability for generations yet unborn.
He noted that there is an embargo on the issuing of forest licences and usage of chain saws in the country which states that anybody found culpable would face the full force of the law.
The law also says that if there is a bush fire in a particular forest and the villagers cannot fish out the culprit, then the alkali will take responsibility," Mr Sanyang said. "In the same way, if during an outbreak of bush fire Mr or Mrs X is asked to take part in putting off the fire and he/she refuses vehemently, he will also face the law."
Mr. Sanyang called on all the local communities to be watchdogs and to strengthen their efforts to protect the forest by developing fire prevention strategies, such as creating fire belts along constituency and village boundaries.
This is a collective responsibility and that the youths should take charge of their responsibilities, he said, while calling on the people of the region to utilize the resources in a more sustainable manner.
He said communities should be more pro-active in protecting the forests and its resources.
He stressed the need to protect the forest from indiscriminate illegal activities to preserve and conserve the remaining natural resources.
He also urged all and sundry to serve as police officers in tracking down offenders by reporting any suspect to a nearby police station, saying people embarking on tree felling and causing bush fires 'are hosted by our own Gambians, who aid them in their operations".
There are structures in place and they are working in close collaboration with community foresters and other stakeholders, he noted, urging the line department and stakeholders to work hand in glove in the prevention and protection of forests from indiscriminate extraction of wood and non-wood products.
Modou Sowe, the metrological officer in Janjanbureh, hailed Totokulung for their initiative, adding that they are worthy of emulation for the good work they have been doing for the past years.
Sowe also talked about the symbiosis between plants and animals, noting: "We need each for the continuation life. Plants produce oxygen, which is needed by animals including humans, and animals give out carbon dioxide, which is also taken by plants for their survival."
Fresh air and more rainfall can only be expected if the forest cover is not destroyed, he also noted, saying there will be bumper harvest and "consequently we will achieve household food security across the country".
He also highlighted some of the negative impacts of bush fires, saying: "It causes low agricultural productivity, exposure of the land, loss of nutrients to the land and other purposes which are very important to human life."
Other speakers on the occasion included Jalamang Darboe, a forest ranger, Seyfo Pierre Bah of Niani district and the alkalis ofKarantaba and Fullabantang, who all expressed similar sentiments, while urging all and sundry to be careful in the way and manner people handle fires as "we are approaching the rainy season".
Read Other Articles In Article (Archive)